Change username form. Insert an info and press enter to submit, or press escape to close.
Create a new account form. Press escape to close.
Validate mail form. Press escape to close.
Lost password form. Insert an info and press enter to submit, or press escape to close.
Confirm address message dialog. Press escape to close.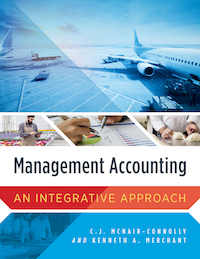 Addressing the longstanding talent gap in management accounting and finance, IMA
?
(Institute of Management Accountants) is taking a bold leap forward in education reform with publication of its first textbook,
Management Accounting - An Integrative Approach
.
Co-authored by C.J. McNair-Connolly, Ph.D., and Kenneth A. Merchant, Ph.D., the book aligns with IMA?s mission of better preparing the accounting student of today to become the strategic business partner of tomorrow. Providing an integrative framework of all major management accounting concepts, the book represents a shift in management accounting education. Moving away from a random combination of tools and techniques, it instead focuses on a decision-oriented framework that incorporates the best of modern control literature.
Offering three Excel databases that present students with real-world settings to consider, the book emphasizes the decision-making process that is illustrative of on-the-job training. ?Management Accounting? also includes activities to help students understand how managers use information, whether for planning, decision-making, or control.
?Students will improve critical thinking skills as they learn a new approach to management accounting. The textbook centers around the behavioral and strategic side of management accounting ? an often overlooked area in other finance literature ? which encourages students to go beyond the analysis and calculation of quantitative data,? said Raef Lawson, Ph.D., CMA, CPA, CFP, CFA, IMA professor-in-residence and vice president of research and policy.
Early adopters of
Management Accounting
enjoy an exclusive discounted price of $175 (by November 22, 2017). The regular retail price for the textbook is $225. As an added bonus, students can
purchase directly from IMA
, if preferred, to avoid the bookstore markup. Supplemental learning materials include: a solutions manual, test bank, PowerPoint presentations, and the integrated databases with online Excel worksheets for students.
To learn more about adopting
Management Accounting ? An Integrative Approach
in your classroom, please visit:
www.imanet.org/matextbook
or email us at
imabooks@imanet.org
.