Celebrating Women's History Month and the CMA: Profile of Jane Sarah Lat
In conjunction with IMA's integrated advertising campaign and in celebration of Women's History Month, in this issue we're spotlighting a member of our CMA® (Certified Management Accountant) community who is stepping up in her career. Our featured CMA is: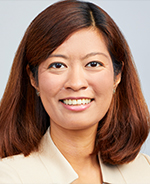 Name: Jane Sarah Lat, CMA
Company name: Verizon Australia Pty Ltd
Title: Consultant – Financial Planning & Analysis
Location: Sydney, Australia
LinkedIn: https://www.linkedin.com/in/janesarahlat/
How did you learn about the CMA and what made you decide to pursue it?

When I moved from financial accounting to management accounting nine years ago, I realized that I needed to develop my knowledge and competencies further to be effective as a finance professional. As I looked more into the CMA curriculum, I was impressed by the specialized knowledge that I could learn, particularly in the areas of planning, budgeting, and forecasting. I knew that by undertaking this field of study, I would equip myself with the knowledge and expertise needed to thrive in this ever-changing business landscape and help distinguish myself in the field.

How has being a CMA added value to your career?

The CMA curriculum covers a wide range of competencies including financial planning, financial statement analysis, and risk management. In addition to this, it helped me stand out in a competitive job market and provided opportunities for career advancement, since it is a globally recognized certification. With its CPE requirement, the CMA has also been an important part of my continuing professional education, enabling me to stay up to date with the latest trends and developments in the profession.

Can you describe a moment in your professional career when your skills as a CMA were recognized – that you "felt seen" for your expertise and insights?

In the middle of 2022, I had the opportunity to take on the revenue acceleration process at work when a team member resigned. I participated in a detailed handover, including a comprehensive immersion in the data analytics workflows while continuing my ongoing workload. Afterwards, I successfully onboarded the new hire replacement. The work I did was nominated and recognized in the Global Enterprise FP&A All Hands at my organization.

I felt that because of the skills and expertise I have as a CMA, my managers had the confidence and trust in me that I would be able to take this on and do a good job.

What's the best piece of advice you would give to CMA hopefuls?

While preparing for the exam, schedule time in your calendar, find study materials that are from reputable sources, and continuously practice the test questions when you have time. Studying for the CMA exam, whether you are working a full-time job or not, can be challenging, but that discipline, focus, and hard work that you have invested when studying for it will pay dividends in the long run. Remember: Becoming a CMA is not an end in itself but rather the start of a journey towards a more fulfilling career.
*****
Please visit the IMA website to learn more about the CMA certification and check out IMA's other resources in celebration of Women's History Month, including this blog and this Count Me In podcast.