Change username form. Insert an info and press enter to submit, or press escape to close.
Create a new account form. Press escape to close.
Validate mail form. Press escape to close.
Lost password form. Insert an info and press enter to submit, or press escape to close.
Confirm address message dialog. Press escape to close.
IMA
®
(Institute of Management Accountants) last week crossed the 100,000-member mark for the first time in its nearly 100-year history. The achievement coincides closely with another major milestone: the association's upcoming 100-year anniversary celebration, which will begin this June at the IMA Annual Conference & Expo in Indianapolis and conclude at the conference in San Diego in 2019.
Propelling IMA towards this historic goal was strong growth across all regions – the Americas, Asia/Pacific, Middle East/India, and Europe. International markets, especially, were high-growth areas in recent years due to IMA's ability to deliver value with a global network and localized products and services, enabling strengthened careers, organizations, and economic development.
"Globalization has been a significant driver for our continued expansion," said IMA president and CEO Jeff Thomson, CMA, CSCA, CAE, who recently traveled to Brazil and India to deepen IMA's international relationships. "As economies develop, more skilled finance and accounting professionals are needed to offer insight and foresight to businesses and governments."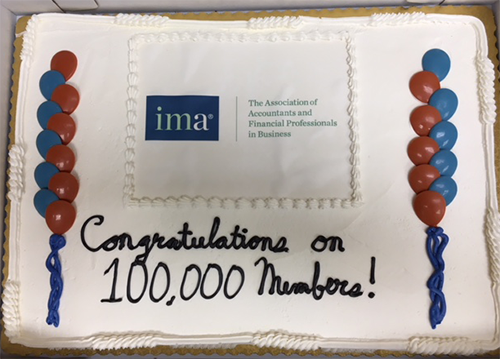 Staff at IMA's global headquarters in Montvale celebrated the 100,000-member milestone – with cake!
Thomson noted that growth in IMA's flagship credential, the
CMA®
(Certified Management Accountant), continues to remain strong as well. Over the past year, the total number of CMA candidates increased by 75%, signaling that accountants are increasingly counted on as strategic business partners.
"Through IMA membership and the CMA certification, our mission is to help professionals prepare and remain competitive in the future as automation impacts our profession," said Thomson. "This growth represents not only a need in the marketplace but a tremendous commitment from IMA's volunteers, partners, and staff to support the profession. We look forward to continuing that support for each of our 100,000 – and growing – members."
IMA anticipates that such membership growth will continue to accelerate, thanks in large part to automation, artificial intelligence, and blockchain, which are replacing repetitive tasks and opening opportunities to use higher-level advisory skills.
Concluded Thomson, "We're thankful to all of our members for helping to make IMA one of the fastest growing and most respected accounting associations in the world."