Change username form. Insert an info and press enter to submit, or press escape to close.
Create a new account form. Press escape to close.
Validate mail form. Press escape to close.
Lost password form. Insert an info and press enter to submit, or press escape to close.
Confirm address message dialog. Press escape to close.
IMA
®
(Institute of Management Accountants) and the National Association of Executives in Finance, Administration, and Accounting (ANEFAC) recently announced a new Memorandum of Understanding (MoU) to support the international advancement of the management accounting profession through IMA membership and promotion of the Certified Management Accountant (CMA
®
) certification among finance and accounting professionals in Brazil.
The MoU, signed by IMA President and CEO Jeff Thomson, CMA, CAE, and ANEFAC President Edmir Carvalho, expands their current relationship and outlines the basis for ongoing cooperation, collaboration, and alignment between the two organizations. Partnership elements will include discounted IMA memberships and CMA Scholarships for ANEFAC members and students, presentations by local "CMA Ambassadors," and IMA sponsorship of ANEFAC's Annual Transparency Awards.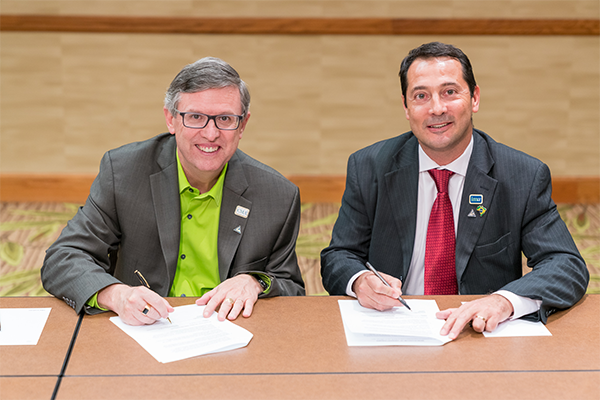 Jeff Thomson and Edmir Carvalho signing a new Memorandum of Understanding to support the management accounting profession.
The organizations will encourage their members to attend and present at one another's annual conferences: IMA's Annual Conference and Exposition (ACE) and ANEFAC's Annual Congresso. They will also hold one joint event per year, beginning in the fall of 2017.
"IMA has a strong interest in deepening its relationships and memberships internationally, and by formalizing our long-standing partnership with ANEFAC, we are taking an important step toward that goal here in Brazil," said Thomson. "We look forward to a fruitful partnership that will support the growth of management accounting and build important skills among professionals throughout the region."
Commenting on the MoU, Carvalho added, "The renewal of this long-term partnership with IMA is of great importance to ANEFAC. In addition to strengthening the relationship between the two institutions, which are leaders in managerial accounting in their respective countries, this partnership provides our members with the opportunity to connect to a network of more than 85,000 professionals worldwide. It is our intention to focus on continuing to grow the relationship with IMA."
For more information about IMA, please visit
https://www.imanet.org/
.