Change username form. Insert an info and press enter to submit, or press escape to close.
Create a new account form. Press escape to close.
Validate mail form. Press escape to close.
Lost password form. Insert an info and press enter to submit, or press escape to close.
Confirm address message dialog. Press escape to close.
IMA
®
(the Institute of Management Accountants), is proud to announce record-breaking growth in its CMA
®
(Certified Management Accountant) program. In the last year, ending June 30, 2017, the total number of CMA candidates in the pipeline grew to more than 41,000; an increase of 40%. IMA reported a compound annual growth rate of 21% for the CMA candidate pipeline over the last five years. IMA's total membership also increased by 11%, hovering around the around 90,000 mark and putting IMA on track to reach 100,000 members by its 100
th
anniversary in 2019.
"This growth represents the tremendous commitment that our volunteers, partners, and staff make to support the profession, as well as the commitment of our members to advance their careers," said Jeff Thomson, CMA, CAE, IMA president and CEO. "We're extremely proud of the success we've achieved and we look forward to reaching more milestones as we approach our 100
th
anniversary."
In addition to these results, IMA celebrated the 10
th
year of the Chinese language version of the CMA exam, as well as double-digit growth (26%) of new CMA candidates in the U.S. IMA attributes this growth to its "You've Got to Earn It" ad campaign and integrated communications plan that led to 26,000 new leads. The multi-million dollar investment was enabled by a culture that is focused on growing with confidence and integrity, and a very strong balance sheet grounded in financial discipline.
To honor those who have supported the CMA's success, ICMA
®
(Institute of Certified Management Accountants), the certification division of IMA, announced the recipients of its prestigious Bulloch and Corporate Recognition Awards during IMA's 2017 Annual Conference & Expo in Denver last month. Ping An Insurance of China and Johnson & Johnson were both awarded for their dedication to the CMA program.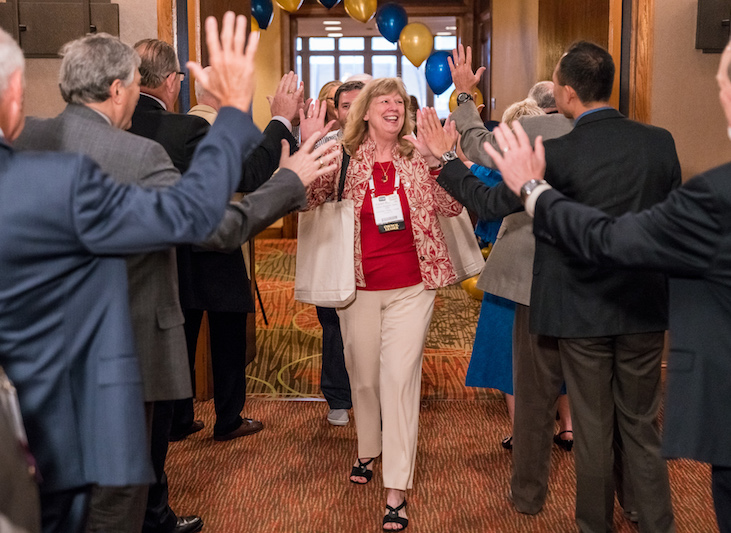 IMA members making a splashy entrance during ACE2017
Ping An Insurance of China, an integrated financial services conglomerate headquartered in Shenzhen, was named the recipient of this year's Bulloch Award. As one of the top global insurers, Ping An provides various financial services to thousands worldwide. The Bulloch Award is bestowed annually to an organization that has demonstrated outstanding sponsorship, encouragement, and support of the CMA program. The award is in honor of James Bulloch, ICMA's first managing director, who helped create the original CMA framework and program standards.
Johnson & Johnson, multinational medical devices, pharmaceutical and consumer packaged goods manufacturer, was presented with this year's ICMA Board of Regents Corporate Recognition Award during the Annual Meeting of Members. John Lottier, senior finance director for the company's Medical Devices sector, accepted the award on Johnson & Johnson's behalf.
"ICMA is pleased to recognize Ping An Insurance of China and Johnson & Johnson for their commitment to the CMA program," said Paul E. Juras, CMA, CPA, Ph.D., and chair of the ICMA Board of Regents. "Both Ping An and Johnson & Johnson have continuously encouraged their employees to earn their CMA and have helped the certification maintain its strong reputation within the accounting profession."
To learn more about the CMA program and awards, grants, and scholarship categories, please visit the IMA website at
www.imanet.org/cma-certification
.