A Message from Alain Mulder and IMA Europe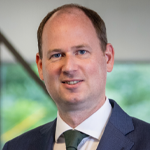 Dear IMA members in Europe,
It's been a very busy few months for IMA Europe as we continue to engage with members and increase IMA's presence in our region. Most significantly this quarter, we hosted our Accounting & Finance Conference in Amsterdam, which was a resounding success; thanks to everyone who participated and attended. Read on in this newsletter to hear more about it.
I wish to say a heartfelt thanks to Gwen van Berne as she recently concluded her term as IMA Chair. Gwen did a fantastic job and provided an incredible amount of support to both our region and IMA on a global scale. Gwen now moves into the Chair-Emeritus role, and we look forward to her continued participation as a local spokesperson and in our local projects.
IMA members and staff were also featured prominently in the media recently. Evert Brugman, CFO of Funda, conducted research into management control in family businesses for his Doctor of Business Administration dissertation at the Business School Netherlands. Some of his key observations and findings are summed up in this article (in Dutch) that appeared in Executive Finance. I also encourage members to check out this article featuring an interview with Mike DePrisco, IMA's new president and CEO, in Hello Zuidas. In it, Mike discusses the value of lifelong learning.
In other IMA news, IMA recently released the results of the Q1 2023 Global Economic Conditions Survey. Among the key findings relevant to our region, confidence in Western Europe improved by 30 points compared to the prior quarter as the economy comes to terms with the war in Ukraine and a mild winter allowed energy prices to return to pre-invasion levels. IMA also recently published several research reports on the topics of the ethical challenges of blockchain, cost management in healthcare, and design thinking and creative problem solving, and co-authored a report with COSO on internal control over sustainability reporting.
Finally, I draw your attention to our approved course provider Staan Academy, which on 29 June hosted a live Q&A session, where attendees could discover everything about the CMA® (Certified Management Accountant) program. Attendees had the chance to ask former participants and instructors about their personal experiences and the value of the CMA to their careers. Staan Academy offers all lessons in both a classroom and virtual setting. Their next courses start on 28 August for CMA parts 1 and 2. Visit https://www.staan-academy.com/courses/cma-exam-preparation/ to learn more.
Please email me directly at amulder@imanet.org to share your thoughts and perspectives.