Change username form. Insert an info and press enter to submit, or press escape to close.
Create a new account form. Press escape to close.
Validate mail form. Press escape to close.
Lost password form. Insert an info and press enter to submit, or press escape to close.
Confirm address message dialog. Press escape to close.
Student Profile: Jarret Wonders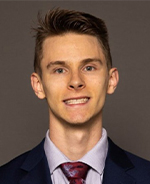 Jarret Wonders already has a great job lined up. He's currently a MAcc student at The Ohio State University and after he graduates later this year, he'll begin a full-time position with EY in Columbus. Jarret is starting his career with some distinct advantages over other young professionals, including passing both parts of the CMA® (Certified Management Accountant) exam, thanks to earning the CMA Scholarship as a student.

Jarret first learned of the CMA while he was a freshman at Kent State University, where he was a member of the College of Business and Honors College, majoring in accounting. But it wasn't until after he had worked as a finance intern at The J.M. Smucker Company a couple of years later that he became more interested in earning the CMA for himself. "I met many people at Smucker who were CMAs and speaking with them definitely made me more aware of the value of the certification. So, I asked my professor, Dr. Wendy Tietz, about it and she recommended I'd be a good candidate for the CMA Scholarship."

This scholarship allowed Jarret to study for and take the CMA exam at no cost. As a terrifically organized and focused person, Jarret took a very methodical approach to this study regime. From March through May 2021, he made preparing for Part 2 of the exam part of his college studies. Once he completed his spring semester and internship, he spent an intense three weeks studying rigorously.

"I went to the Kent State library every day—it became my full-time job, to get ready for the exam," Jarret says. He took the exam in June, and felt good about how he had performed.

Jarret didn't have much time to take a breather, as he also was preparing to take the CPA exam. As he recalls, "I began studying for the CPA the day after passing the CMA." Comparing the two exams, Jarret notes that "The CMA is like the BEC [Business Environment and Concepts] section of the CPA exam on steroids." Finding the time to study wasn't always easy: At the time, January through April 2022, Jarret was working as an audit and tax intern at EY, toiling tirelessly smack-dab in the middle of audit season.

"I was always looking for ways to increase my bandwidth, to fine-tune my schedule and figure out what I needed to get done versus what I wanted to get done," he recalls.

Jarret passed both parts of the exam and now only needs two years of professional work experience to earn his CMA. He has some wise advice for students: "Do it now. Life is only going to get busier. There is always going to be an excuse and other things to demand your time."

In his job at EY, Jarret will be spending half of his time in audit and the other half in a field called digital innovation. "The knowledge I gained from the CMA exam helped me sound more educated about accounting and finance—and helped me confidently and intelligently interview for the digital innovation position," he says.

Visit the IMA website to learn more about the CMA Scholarship.