Change username form. Insert an info and press enter to submit, or press escape to close.
Create a new account form. Press escape to close.
Validate mail form. Press escape to close.
Lost password form. Insert an info and press enter to submit, or press escape to close.
Confirm address message dialog. Press escape to close.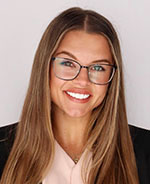 A college athlete, Madison Lynn knows the meaning of discipline: She played softball for the Saint Leo University Lions, a Division II team. That dedication has played out in the rest of her life as well, as immediately after earning her BA in accounting, she went on to obtain her MAcc, also at Saint Leo. Currently, she's an engagement financial advisor at Deloitte in Charlotte, N.C., and has already taken an important step towards achieving her career goals by passing both parts of the CMA® (Certified Management Accountant) exam.
Madison took the exam after receiving the CMA Scholarship, which she learned about when she was a senior. Her cost accounting professor, Passard Dean, told her about the opportunity, and it was something she was immediately intrigued by. "My interest had always been in management accounting, and I wasn't really interested in taking the CPA route. When Professor Dean told me that he could recommend 10 students for the scholarship that year, I immediately saw it as a win-win opportunity."
Madison had a practical attitude about studying for and taking the exam. From where she saw it, the scholarship enabled her to prepare for and take the exam for free on the first try. "I thought, well, even if I don't do well on it this time, what do I have to lose? I'm getting to take it for free."
Madison had to be smart about her study routine. At the time she received the scholarship, she had just completed her BA studies and was deeply involved in her MAcc program. Equally important, though, being a college athlete required a great deal of her time, so she needed to work around her demanding softball practice and game schedule.
"I definitely had to prepare for and take the exam when I wasn't in season – which was pretty much all of March and April and part of May," she explained. "So, I started studying in early January 2021 and took Part 1 of the exam in February. Then, I took time off for my season and resumed studying for Part 2 on May 15, taking the exam on June 7."
She used the test bank of questions that was provided with her scholarship as a way to prepare for the exam. And while much of the exam content was covered in her MAcc classes, she still had to brush up on other topics. She also is very glad that she prepared for the exam while she was a student, rather than wait until she was deep into her career.
"Once I started working, it was all about work, work, work. I'm glad that when I took my exams, I was already in study mode, which definitely made it easier to stay focused," she said.
Madison passed both parts of the exam on her first attempt, and she's now working to gain her two years of experience. She's finding that she relies on the knowledge and skills she gained from the CMA, which have been very helpful.
For students, she encourages them to ask their professor about the CMA Scholarship. And for professors? "Tell your students! There may be someone out there who could really benefit from being a CMA," Madison said.
Visit the IMA website to learn more about the CMA Scholarship.