Change username form. Insert an info and press enter to submit, or press escape to close.
Create a new account form. Press escape to close.
Validate mail form. Press escape to close.
Lost password form. Insert an info and press enter to submit, or press escape to close.
Confirm address message dialog. Press escape to close.
To help solidify existing relationships and forge new ones in the region, IMA® (Institute of Management Accountants) senior leadership team member Dennis Whitney, CMA, recently spent six days in Southeast Asia, accompanied by Southeast Asia office leader Josh Heniro, Ph.D., director of operations.
The team's visit began in Manila, Philippines, at the offices of Johnson & Johnson, where Whitney presented to the company's accounting and finance staff. He discussed the topic of "The Changing Role of the CFO," noting, among other things, how "being technically proficient doesn't make you a good manager or a good leader. You have to be willing to be vulnerable, to listen, and to communicate a clear vision."
The next day, the team met with the Philippine Association of Collegiate Schools of Business (PACSB), an association of more than 350 business schools from across the Philippines. The team signed a Memorandum of Understanding with the PACSB and spoke with university deans about the benefits of the CMA® (Certified Management Accountant) certification. Whitney also discussed the topic of data analytics and its inclusion in the new CMA exam starting in 2020.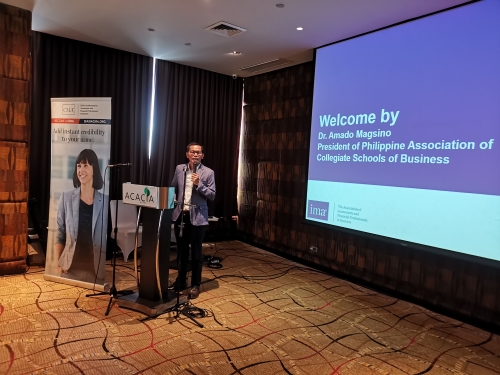 Dr. Amado Magsino, president of the PACSB, makes introductory remarks.
The last day in the Philippines included a presentation on data analytics to CMA candidates, organized by review course provider Insights Financial Review Services and later, a CPE and networking event. At that event, Whitney and Heniro presented awards to seven top performers on the CMA exam from the Philippines in 2018 and 2019.
The next leg of the trip took the team to Hanoi and Ho Chi Minh City (HCMC) in Vietnam, where they conducted workshops for students and academics at four prominent education institutions: National Economics University, Vietnam National University (VNU), Banking Academy of Vietnam, and Banking University. At VNU, a prestigious public university in Hanoi, IMA representatives signed a Memorandum of Understanding to ensure further collaboration and cooperation between the two organizations.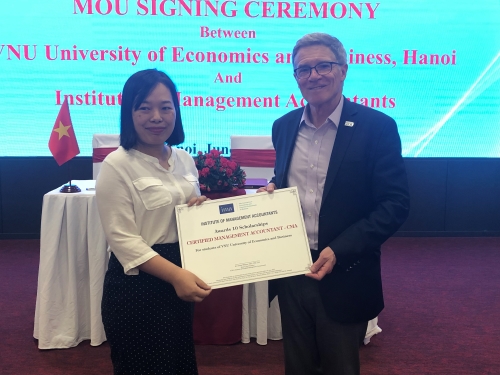 Whitney [r.] and Dr. Nguyen Thi Hong Thuy, VNU's dean of the faculty of accounting and auditing.
The team also spoke at gatherings of CMA candidates organized by IMA's training partner, Smart Train Vietnam. Whitney discussed the changing role of the CFO and changes to the CMA 2020 exam, particularly those related to data analytics. In HCMC, Whitney also presented the leaders of the Vietnam Chapter with their ICMA Board of Regents Award for excellence in the small chapter category, which was announced at IMA's Annual Conference & Expo in San Diego in June.
"This region of the world is a growing and increasingly important one for IMA as we fulfill our strategic mission to be an advocate for excellence in management accounting around the world," said Whitney. "We are encouraged by the excellent response to the CMA program in both Vietnam and the Philippines and continue to extend awareness about the value of the CMA certification to both professionals and the organizations where they work."
For more information about IMA's activities in Southeast Asia, please visit IMA Southeast Asia.