Change username form. Insert an info and press enter to submit, or press escape to close.
Create a new account form. Press escape to close.
Validate mail form. Press escape to close.
Lost password form. Insert an info and press enter to submit, or press escape to close.
Confirm address message dialog. Press escape to close.
IMA President and CEO Jeff Thomson, CMA, CSCA, CAE, recently completed an eight-day visit in the Middle East and India, where he attended chapter events, discussed business development opportunities, and served as the keynote speaker at the IMA® (Institute of Management Accountants) 7th Middle East and India Regional Conference. Accompanying Thomson were Jim Gurowka, CAE, IMA senior vice president of global business development; Ahmad Mkhallati, director, regional partners relations in the Middle East, during the Middle East portion of the trip; and in India, Hanadi Khalife, IMA director of Middle East/India operations.
The trip began in Doha, Qatar, where Thomson gave a talk titled "Digital Transformation and the Call to Action for Management Accountants" at a conference sponsored by the IMA Doha Chapter. The conference, held on September 14 and 15, was titled "Delivering Strategic Value in the Workplace" and attracted a large gathering of management accounting professionals from the region. Thomson also held individual meetings with prominent companies both before and after the conference.
Next, Thomson traveled to Kuwait and Jeddah, where he delivered his "Digital Transformation" talk during chapter events in Kuwait and Jeddah. Thomson later met with CMA course providers and corporations in Bahrain, including speaking on digital transformation at an event sponsored by the Bahrain Institute of Banking and Finance (BIBF) and Morgan International, a prominent review course provider.
From Bahrain, Thomson traveled to Bangalore, where he spent the final three days of his visit in India, including attending events sponsored by Hewlett Packard Enterprise (HPE). His visit in India concluded with his attendance at IMA's 7th Middle East and India Regional Conference, featuring an IMA 100 Years celebration.
The event was held on September 21 and attracted more than 300 IMA members, finance professionals, and academic leaders. Khalife delivered the welcome address, noting IMA's history and achievements. "We're now very proudly a community of more than 125,000 members across the world," she observed.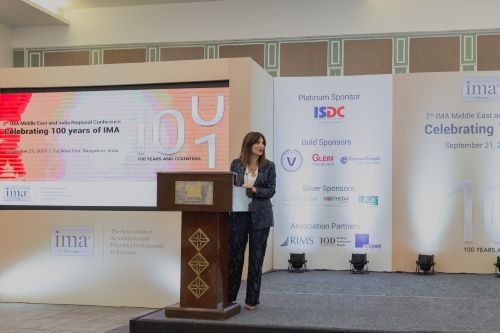 Hanadi Khalife delivers the welcome address.

Thomson was the keynote speaker, delivering his talk on digital transformation, remarking, "We have the capability in this profession to create more powerful jobs with greater insight and foresight to our internal operations and external clients. But we do need to scale up in two primary areas: strategy management and data science."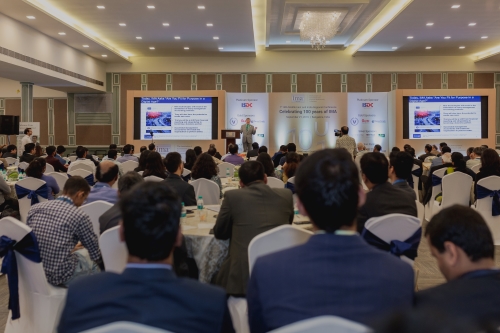 Jeff Thomson discusses digital transformation at his keynote address.

Other speakers at the conference included:
Kabir Ahmed Shakir, global finance leader, ex-Microsoft Corporation India Pvt. Ltd., who discussed "Finance Leadership in the Digital Age"
Dr. Jai Ganesh, senior vice president and head of Mphasis NEXT Labs, who spoke about "Artificial Intelligence as an Enabler for Decision Analysis"
Sandhya Sriram, global head of audit and risks, Wipro Enterprises, who spoke about "Emerging Trends of AI and ML [Machine Learning] in Finance"
The conference also featured a panel discussion on "Data Analytics and Tech in Corporate Finance/Management Accounting," including panelists [pictured below, from l. to r.]: Julien Machot, chairman, ISDC, and founder, Verso Holdings; Rohit Kaushal, finance director, FOAA IN; Thomson; Anita Bhat-Zutshi, vice president, global business and finance services, Unilever;
Narendranath Nair, general manager, Wipro; and Jaywardhan Semwal, vice president of corporate financial accounting, HPE.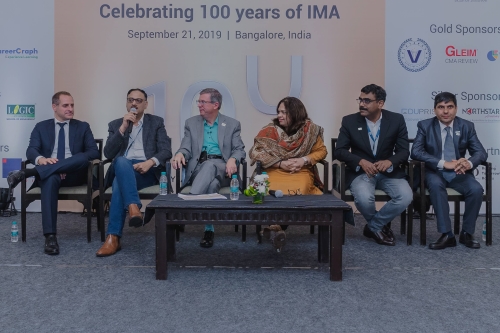 An engaging panel discussion.
Speaking on the panel, Kaushal remarked, "The risk is the moment we stop keeping a tab on technological disruptions, we become redundant. Bots and virtual assistants will naturally come in to do the job. We need to be watchful of new technologies, which can help us stay relevant and become multi-skilled." Observed Semwal, "Today's fast-changing business models pose both a risk and an opportunity to the accounting profession," while Nair noted, "My biggest fear for the accounting profession is that data will be used to influence finance professionals and corporate finance. As for the biggest opportunity, we have the chance to re-school and reinvent ourselves."
During the conference, the team also conducted a CMA ceremony, where 47 new CMAs were awarded their certificates and pins.
For more information on IMA's activities in the Middle East and India, please visit http://imamiddleeast.org/.