Change username form. Insert an info and press enter to submit, or press escape to close.
Create a new account form. Press escape to close.
Validate mail form. Press escape to close.
Lost password form. Insert an info and press enter to submit, or press escape to close.
Confirm address message dialog. Press escape to close.
IMA
®
(Institute of Management Accountants) continues to expand its presence in Asia, with recent developments in Hong Kong and Indonesia.
Hong Kong

IMA celebrated the launch of its first chapter in Hong Kong at an opening ceremony and professional event on January 12. IMA members from Hong Kong, mainland China, and other countries in Asia attended the ceremony.
The event kicked off with an inspiring video by IMA President and CEO Jeff Thomson, CMA, CSCA, CAE, and a letter of encouragement from Ginger White, CMA, CSCA, Chair of the IMA Global Board of Directors. Michelle Yu, IMA business development manager and a representative of IMA China, was on hand to present the Hong Kong Chapter with its official charter.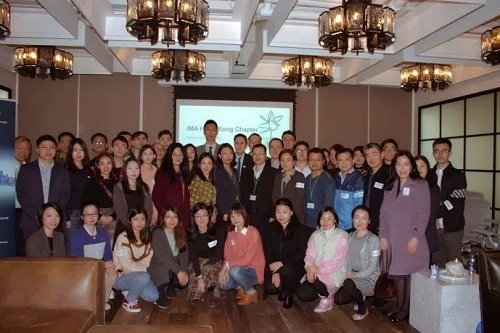 Participants at the opening ceremony of the IMA Hong Kong Chapter.
Also participating in the festivities were the president of the IMA Shenzhen CMA Elite Club, Michael Jian, and Zhiping Yang, executive VP of the Shenzhen Club.
As the president of the new Hong Kong Chapter, Stella Lu delivered remarks, noting that, "The objective of our chapter is to support IMA members pursuing their professional careers and accomplishing their respective goals. We plan to conduct events to provide services on technical knowledge and skills, leadership enhancement, networking, and business opportunities."
The professional development portion of the ceremony included presentations by two experts: (1) Andy Li, CFO of a pre-IPO technology company in Beijing, who discussed trends in the initial public offering process in Hong Kong, which recently regained its position as the world's top destination for IPOs; (2) Nancy Guan, a certified tax advisor, who explained "Tax Planning for Corporates in Asia," including case studies of effective tax planning at multinational companies.
For more information on the IMA Hong Kong Chapter, please contact Emily He at
Emily.He@imanet.org
.
Indonesia

IMA announced the introduction of the CMA
®
(Certified Management Accountant) certification in Indonesia, in conjunction with its International Management Accounting Conference 2019.
The conference, organized by IMA along with Wiley and Akuntan Manajemen Indonesia Bersatu (AMIB), was held at the Indonesia Stock Exchange (IDX) in Jakarta on January 17. As part of the festivities, IMA, Wiley, and AMIB representatives took part in the IDX opening bell ceremony that day. AMIB is IMA's approved review course provider in Indonesia.
At the event, professionals gathered to discuss the challenges faced by accountants as the Indonesia economy is influenced by globalization. Speakers during a panel discussion included H.E. Prof. Bambang Brodjonegoro, Ph.D., minister of national development planning of the Republic of Indonesia; and Inarno Djajadi, president director of the Indonesia Stock Exchange.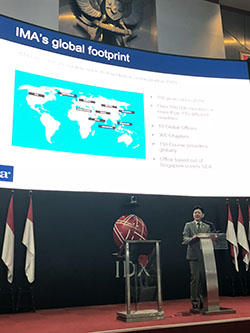 Josh Heniro speaks at the Indonesia Stock Exchange.
The conference was part of a nationwide initiative recently launched by the Indonesian government and known as "Making Indonesia 4.0." The initiative is designed to revitalize the country's national manufacturing industry to be more globally competitive and to move Indonesia forward towards a digital economic system.
"We hope that this conference served to facilitate effective dialogue between various economic sector-related stakeholders, especially in the Indonesian digital economy, to find solutions that advance the nation towards the successful implementation of 'Making Indonesia 4.0,'" said IMA Director of Southeast Asia Josh Heniro.
For more information on IMA's activities in Indonesia, please contact Josh Heniro at
jheniro@imanet.org
.