Change username form. Insert an info and press enter to submit, or press escape to close.
Create a new account form. Press escape to close.
Validate mail form. Press escape to close.
Lost password form. Insert an info and press enter to submit, or press escape to close.
Confirm address message dialog. Press escape to close.
Senior IMA
?
(Institute of Management Accountants) leaders recently spent six days in China and South Korea, further solidifying IMA?s growing presence and reputation in the region.
The visit began on October 25, when IMA President and CEO Jeff Thomson, CMA, CSCA, CAE; IMA International Operations Director Jim Piechowski, CAE; and IMA Asia Pacific Director and China Chief Representative Alan Bai, CMA, met with key financial executives of State Grid Corporation of China, the world?s largest utility company. The two groups discussed the practical applications of management accounting in business and the development of management accounting talent.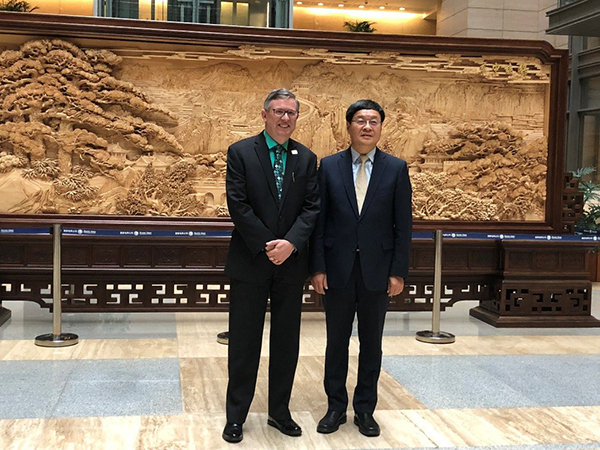 Thomson and Luo Qianyi, CFO, State Grid Corporation of China.

The next day, the IMA team attended the 5
th
IMA Management Accounting Summit, where business managers, decision makers, financial leaders, experts, and scholars convened and explored the roles of management accounting in business operations, value creation, and talent development. During the summit, Thomson shared the innovative management accounting research that IMA has conducted over the years. He also outlined a blueprint for the global future of management accounting with a presentation titled ?Evolution of Management Accounting.?
At the summit, IMA honored Zengbiao Yu, professor at Tsinghua University, School of Economic and Management, Department of Accounting, by naming him IMA Honorary Professor of Management Accounting.
?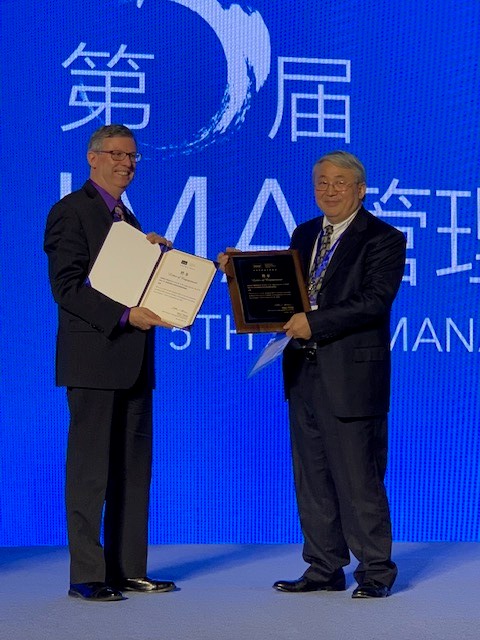 Thomson recognizes Professor Zengbiao Yu as IMA Honorary Professor of Management Accounting.
In commenting on this recent trip to the Asia-Pacific region, Piechowski said, ?IMA is dedicated to serving our members around the world and expanding opportunities to match the changing demographics of our membership. We?re helping to prepare for a future that includes an emphasis on data analytics, digital transformation, and the incorporation of technology into accounting and finance. By visiting members in the countries where they live and work, IMA leadership gains a real-time understanding of the skills and knowledge needed to best serve members? needs.?
Other Opportunities in China
The team also attended the 2
nd
Shenzhen Management Accounting Development Summit & Guangdong-Zhuhai-Macao Bay Enterprise Risk Management Conference, co-organized by IMA and the Shenzhen Accounting Society, the Shenzhen Finance Society, and the Shenzhen Budget and Accounting Research Society.
At this conference, Thomson shared perspectives on business risk management, focusing on the most updated COSO Business Risk Management framework. Thomson emphasized that risk management is not about ?eliminating risks? but about defining risk appetite, identifying opportunities for businesses while managing and controlling risks. Later that day, Thomson and Piechowski met with an assistant dean and vice director from the School of Economy and Management of Harbin Institute of Technology in Shenzhen, a school that plans to promote the CMA
?
(Certified Management Accountant) certification to more students in the future. Thomson delivered a keynote speech to approximately 80 students on the topic of ?The Development and Transformation of Management Accounting in a New Era.?
Finally, Thomson and Piechowski dined with the chair and club volunteers from the Shenzhen CMA Elite Club as well as Zhang Jianjun, director of the Accounting Society of China. At that dinner, Thomson thanked everyone present for their long-term trust in IMA.
?
Thomson, Piechowski, and Shenzhen CMA Elite Club representatives dined together.
Said Piechowski, ?We are very encouraged by our solid growth in southern China as well as Hong Kong, where we recently chartered our first official chapter. Management accounting continues to be increasingly important in growing the Chinese economy, especially in regions such as Shenzhen, where the manufacturing industry plays a key role.?
Meetings in Korea
The final leg of the trip led the team to Seoul, Korea, where Thomson and Piechowski participated in two meetings with important accounting and finance groups in the country: the Management Accounting Association of Korea (MAAK) and the CFO Committee of the American Chamber of Commerce of Korea (AMCHAM).
Three officers from the IMA Korea Chapter ? president Sang-Ki Lee, Hyun Pyo Hong, and IMA Global Board member Rob Mars ? hosted Thomson and Piechowski as well as several university professors representing MAAK. The group discussed opportunities for the organizations to collaborate in areas such as research, management accounting content and curriculum, scholarships, CMA promotion, and academic endorsement programs.
?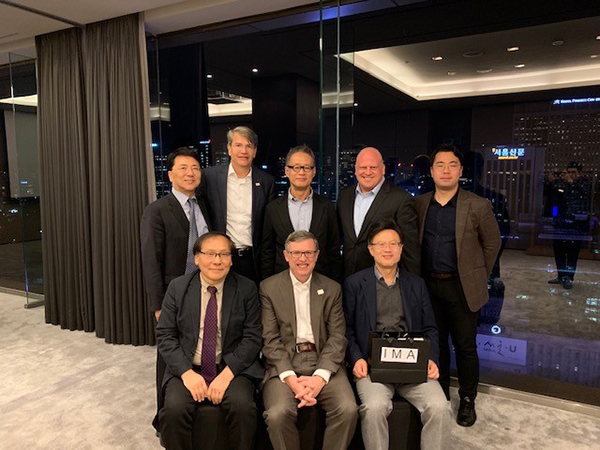 Front row: Yanghon Chung (MAAK president, KAIST University); Thomson; Taiyoung Paik (MAAK vice president, Sung Kyun Kwan University).
Back row: Lee; Mars; Jinbae Kim (MAAK vice president, Korea University); Piechowski; Hong.
The following day, the IMA team attended an AMCHAM CFO Committee meeting, where Thomson delivered a presentation titled ?The CFO Team: Extinct, or Distinct, in a Digital World?? and discussed what organizations and individuals need to do to get ahead of the accelerating pace of technology and automation.