Change username form. Insert an info and press enter to submit, or press escape to close.
Create a new account form. Press escape to close.
Validate mail form. Press escape to close.
Lost password form. Insert an info and press enter to submit, or press escape to close.
Confirm address message dialog. Press escape to close.
Nearly 100 attendees shared perspectives on women in leadership positions and barriers to creating a more inclusive culture during IMA's most recent Women's Accounting Leadership Forum, held in Boston, Mass., on October 26.
The half-day event, co-sponsored with the Manning School of Business at the University of Massachusetts Lowell, was held at the University of Massachusetts Club and featured interactive discussions and presentations on:
"Listening to the Numbers" -- Sandra Richtermeyer, CMA, CPA, Ph.D., dean, Manning School of Business, University of Massachusetts Lowell, and former IMA Global Chair, presented data and new insights on the evolution of leadership in the world of accounting and finance. She also led attendees in a discussion of trends, including the gender pay gap and other challenges facing women in the workplace.
"Journey to the C-Suite" -- A Q&A session moderated by Leslie Seidman, CPA, independent corporate director and former FASB Chair; and Tammy Concannon, CPA, CFO of Corporate Technologies, Inc. With Seidman as facilitator, Concannon shared her personal experiences navigating the intensively competitive journey to the CFO's office.
"Digital Controllership" -- Two leaders from Deloitte's Center for Controllership™ (Ashley B. Gibson, CMA, CPA, risk and financial advisory manager; and Beth Kaplan, managing director) described how "digital controllership" can harness innovation and technology to fundamentally transform the controllership role and add value to an organization.
"Breakthrough Performance: Women Leaders and the Bottom Line" -- A panel discussion moderated by Richtermeyer and featuring Claude-Helen McIntyre, CMA, VP of finance and CFO ARBURG, Inc.; Laura S. Peck, CPA, controller, Novolex; and Bethany Sensenig; CMA, VP of finance and commercial operations at Biogen. Panelists discussed their insights and experiences on driving business performance and offered advice for aspiring leaders.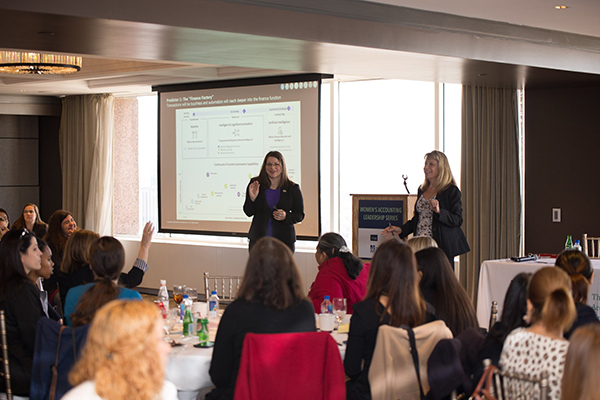 Gibson (l.) and Kaplan discuss "Digital Controllership."
Said Lisa Beaudoin, CMA, CSCA, CAE, IMA director of business development and one of the event's organizers, "We're very grateful to the exceptionally accomplished group of professionals who shared their insights and personal experiences on the topic of women in leadership. Attendees were especially eager to learn more about how to navigate work-life balance and how to best position themselves for career advancement."
Continued Beaudoin, "We were especially pleased to see a large group of students attend this event in Boston. Overall, the message to the attendees was to advocate for themselves, believe in their leadership abilities, and challenge themselves to pursue new opportunities."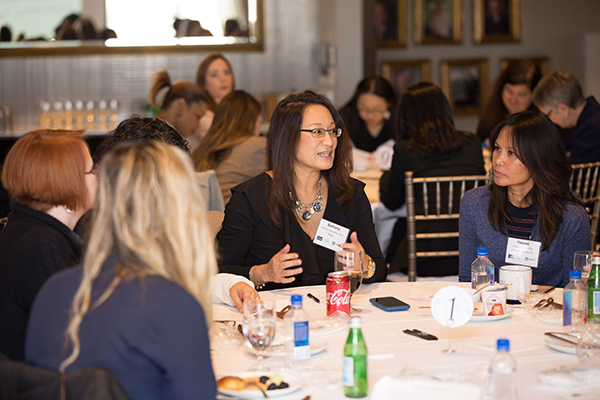 Attendees and panelist Sensenig engage in a lively discussion.
This event is part of a continuing series offered by IMA
®
(Institute of Management Accountants). Since its launch in 2014, the Women's Accounting Leadership Series has hosted nine events, providing a forum for women (and men) in accounting and finance to exchange ideas on leadership development and strategies for success. It has grown to a semiannual event, attracting attendees from across the United States and internationally. Earlier this year, IMA held its first non-U.S. event at Vrije University in Amsterdam. Future events are already planned for 2019: at Amsterdam's Vrije University on March 7; and at Baruch College in New York City on May 3. Stay tuned for further details.
For more information, please visit
www.imanet.org/womensleadership
.