Change username form. Insert an info and press enter to submit, or press escape to close.
Create a new account form. Press escape to close.
Validate mail form. Press escape to close.
Lost password form. Insert an info and press enter to submit, or press escape to close.
Confirm address message dialog. Press escape to close.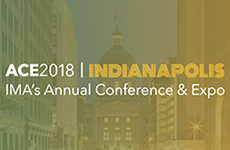 Ever wanted to "rub elbows" with a pro football Hall of Famer? How about a New York Times best-selling author or an artificial intelligence (AI) expert?

All three – and more – will be on hand at the IMA® (Institute of Management Accountants) event of the year: the 2018 Annual Conference & Expo (ACE2018), to be held at the JW Marriott in Indianapolis from June 16-20, 2018. Early Bird registration is available now through March 31 – only 11 days away. Click here to take advantage of special rates and save up to $340.

This year's Conference promises an outstanding lineup of keynote speakers, including:
Emmitt Smith, Pro Football Hall of Famer, NFL's All-Time Leading Rusher, and a Three-Time Super Bowl Champion, who will share his inspiring message titled "Game On: A Championship Vision."
Patricia Wilson, Former CEO of the Make-A-Wish Foundation, Greater Bay Area. She'll lead a session titled "Lessons Learned from an Accidental CEO."
Alec Ross, New York Times best-selling author and former senior advisor for innovation at the U.S. State Department, who will discuss "Understanding Our Changing World."
Lori Victor Feller, IBM Global Partner, Cognitive Innovation and IBM Q Consulting Global Leader, who will speak on the topic of AI in her talk, "Artificial Intelligence: Why It Matters Now More than Ever."
Other featured speakers include:
Wesley Bricker, CPA, Chief Accountant, U.S. Securities & Exchange Commission;
Tamara Kleinberg, Innovation Enabler, Founder/CEO, GoToLaunchStreet.com; and
Kelly Richmond Pope, CPA, CFE, CGMA, Ph.D., Founder and Chief Content Officer, Helios Digital Learning.
ACE2018 will be an exciting opportunity to engage with more than 800 attendees and reap the benefits of:
Nine Specialty Tracks designed exclusively for management accountants: the eight tracks introduced at last year's Conference plus a new track: Strategy and Competitive Analysis
70+ educational sessions
More than 30 continuing professional education (CPE) credits (29 NASBA credits)*
For complete information about ACE2018 and registration details, please visit http://www.imaconference.org/. You can also join the conversation at #IMA18ACE.

*Maximum CPE is based on attending the preconference workshops, preconference webinar, and main conference sessions.