Change username form. Insert an info and press enter to submit, or press escape to close.
Create a new account form. Press escape to close.
Validate mail form. Press escape to close.
Lost password form. Insert an info and press enter to submit, or press escape to close.
Confirm address message dialog. Press escape to close.
More than 1,000 finance professionals gathered in late May in Shaoxing, China, for the 1st World Accounting Forum and the 13th China CFO Conference. Themed "Leading Global Finance and Upgrading by New Intelligence," the Forum focused on a wide range of issues, including the latest trends in accounting and the responsibility of the profession in the digital age. Jeff Thomson, CMA, CSCA, CAE, IMA president and CEO, was among the keynote speakers.
Attendees included accounting professionals from government sectors, international accounting firms, renowned global companies, and research institutes, who gathered to exchange insights about the impact of intelligent manufacturing on the accounting industry.
Alan Bai, CMA, IMA's director of the Asia Pacific region and chief representative in China, also attended the Forum on behalf of IMA.
The title of Thomson's address was "A TRIP [Trends, Risks, Issues, Potential] Around the World of Accounting." In his talk, Thomson emphasized that in a rapidly changing business environment, financial professionals who wish to increase their influence and value need to acquire new skills to break free from past roles and serve as catalysts for strategic decisions.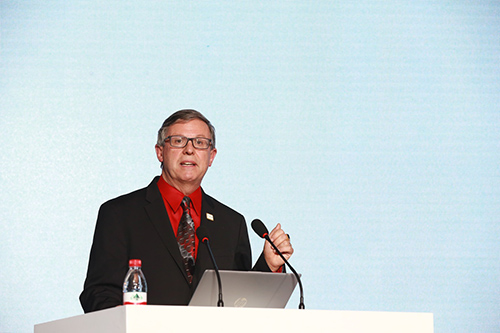 Thomson shared inspiring words with approximately 1,000 attendees at the World Accounting Forum.
"The CFO team needs to take into account four core principles – namely, oversight, hindsight, insight, and foresight," Thomson said. He added that with the rapid development of new technologies, the value of data will be increasingly evident, and CFOs and their teams must leverage this data to implement their corporate strategies.
In addition, Thomson emphasized that comprehensive, forward-looking, value-based management accounting talent is pivotal to the future of financial management.
"Organizations have to be forward-looking to build their own brands and this requires both statistical and analytical capabilities," he said. "The CFO team must become catalysts and strategists, not just value managers. Big data, artificial intelligence, blockchain, and other new technologies provide us with new possibilities. We must learn new knowledge, acquire new technologies, and acquire new capabilities so that we can achieve a new future."
Other speakers at the Forum included industry leaders who offered insights on new accounting standards, career outlook and professional ethics, and challenges and opportunities brought about by macroeconomic trends, corporate mergers, and acquisitions.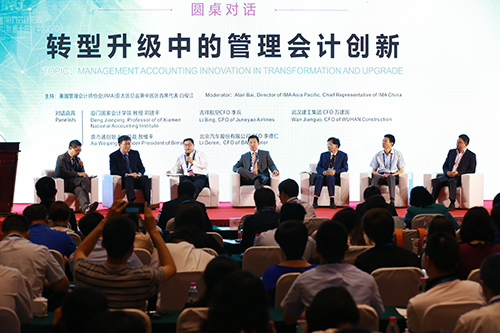 Bai [far left] presided over a panel on management accounting innovation.
Also at the Forum, a roundtable dialogue on "Management Accounting Innovation" was moderated by Bai and featured panelists Professor Deng Jianping of Xiamen National Accounting Institute; Li Bing of Jixiang Airlines; Wan Jianguo, CFO of Wuhan Construction Industry Group; Ao Weiping, founder and president of Piaoshitong; Li Deren, CFO of Beijing Automotive Co., Ltd.; and Wang Zhuquan, vice dean of the Management College of Ocean University of China.
Under the guidance by the Ministry of Finance of China, the World Accounting Forum was sponsored by the China Financial Publishing and Media Group and the People's Government of Shaoxing City, Zhejiang Province. It was organized by the New Finance Magazine and the People's Government of Keqiao District of Shaoxing City.
For more information about IMA's activities in China, please visit
www.imanet.org.cn
.