Change username form. Insert an info and press enter to submit, or press escape to close.
Create a new account form. Press escape to close.
Validate mail form. Press escape to close.
Lost password form. Insert an info and press enter to submit, or press escape to close.
Confirm address message dialog. Press escape to close.
A Message from Alain Mulder and IMA Europe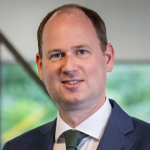 Dear IMA members in Europe,

Greetings from the IMA Europe team!

There's been a lot of activity both within IMA Europe and IMA Global. As I'm sure most members know by now, Jeff Thomson, CMA, CSCA, CAE, IMA's president and CEO, recently announced his impending retirement in early 2023. I trust all our members share my thanks and appreciation for the phenomenal impact that Jeff has had on our organization and the accounting and finance profession during his nearly 15-year tenure. We will certainly miss his leadership and his dedication both to our region and the profession. If you are able, I invite all members to express their best wishes to Jeff on his LinkedIn page.
Other recent developments include the launch of the new CMA® (Certified Management Accountant) ad campaign, which I hope many of you have had the opportunity to see by now. Under the theme, "The more visible you become, the more valuable you become," the ads showcase how CMAs are equipped to analyze and deliver results in ways that others cannot. You can see the two ads on YouTube: Take control of your career as a CMA and You'll go places with the CMA.
In news both old and new, we also want to take this opportunity to recognize the five-year anniversary of our partnership with Staan Academy in the Netherlands, a best-in-class review course provider that helps skilled professionals pass the rigorous CMA exam. They have helped many of our members earn their CMA certification by providing outstanding instruction and resources. We also extend congratulations to Markus Verbeek Praehep on being recognized as a Silver-approved CMA course provider. By working with an experienced, knowledgeable course provider, you can significantly increase your chances of exam success. See below for a photo of the ceremony! We also want to acknowledge our new IMA Europe honorary professor in residence, Prof. Dr. Mike Schulze, who is off to a great start in this role and has already made strides in serving as a liaison between IMA and the university communities in our region.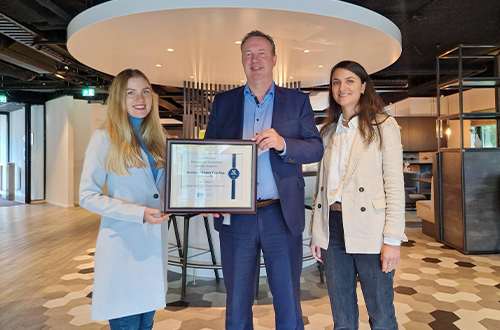 IMA staff with MVP's Frank Bakker
IMA was also recently prominently featured in an article, published in Training magazine, about Johnson & Johnson's Finance Leadership Development Program (FLDP) and how the CMA is essential to the company's leadership development efforts. The article is a strong testament to the power of the CMA: 73% of active J&J employees who graduated from the FLDP and hold a CMA have been promoted at least once outside the program, compared to 55% who do not hold the CMA. Plus, of those FLDP graduates who hold a CMA, more than 60% have remained with the company. You can read the full article on the Training website: "Case Study: The Key to Bolstering Retention and Promotions in the Finance Function."
In other media news, we also recently released the latest Global Economic Conditions Survey (GECS) report as well as a new survey, authored in collaboration with Deloitte's Center for Controllership, titled, "Stepping Into the Future of Controllership: From Accounting to Insight." The report details the transformative effect the global COVID-19 pandemic has had on the finance and accounting function and how finance and accounting professionals can use that momentum to drive innovation within controllership and deliver more value to their organizations. We also recently released a report detailing the state of diversity, equity, and inclusion (DE&I) in Europe.
Finally, I wish to thank Armand Angeli for interviewing Loreal Jiles and I about IMA's latest research report, "Supply Chain: A Finance Professional's Perspective" for the Paris-based DFCG Finance & Gestion Magazine. You can read the full article on the magazine's website: "Supply Chain in Finance — An International Perspective."
Please reach out to me directly (amulder@imanet.org) to share your thoughts and perspective.