Recaps: Exciting ICV and Chapter Events
IMA Europe participated in several events over the past few months, many of them organized by our chapters:

ICV in Poland
IMA Europe was a Gold Partner of the XVI Congress of ICV POLSKA - International Association of Controllers (CIA 2022), the largest international event for CFOs, financiers, controllers, and managers in Central and Eastern Europe. More than 200 people attended this event, held on 10-11 October.

The conference included seven thematic sessions and 24 speakers, many of them prominent leaders in their respective fields. Among them was Alain Mulder, managing director, IMA Europe operations, who spoke on the topic of "Current Global Economic Conditions and How Finance Should React."

Noted Mulder, "It was a pleasure to talk about the global state of the economy and the state of the finance profession. We are in a period of uncertainty and transformation, and we all need to be prepared. The IMA Europe team gained valuable insights into the finance and accounting profession's complexity from all the speakers at the conference."

Check out this ICV video, featuring comments by Mulder and Bernardin Generalao, director, regional partner relations, IMA.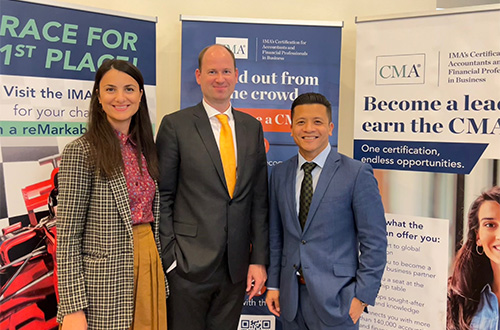 The IMA Europe team at CIA 2022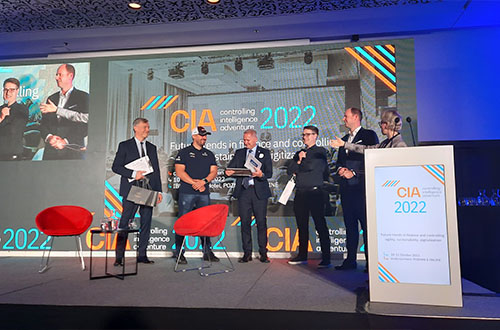 CIA 2022 presenters
Austria
Generalao also participated in another ICV event in Austria on 18 November. The sold-out event, titled "Controlling Insights Steyr: Corporate Management in Stormy Times," attracted participants from Germany, Austria, and abroad. The featured guest speaker was Dr. Magnus Brunner, Austria's Minister of Finance. In addition to keynotes and lectures by top speakers, the event included a futures lab on the latest developments in controlling.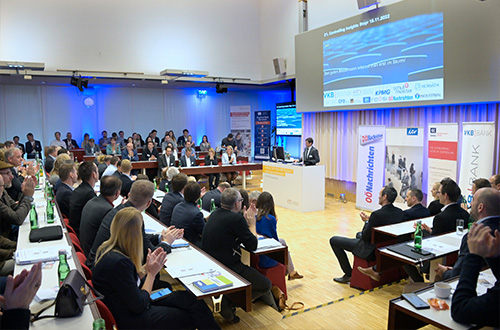 At the Steyr event
Virtual
To share IMA's research on the important topic of diversity, equity, and inclusion, on 20 October, Mulder participated in a webinar discussion, sponsored by the Association of Association Executives. This interactive online webinar, titled "Promoting Diversity and Making Associations Relevant to More Diverse Audiences," examined the question of diversity and inclusion from two angles: first, how to stimulate diversity in the sector that an association represents and second, how to engage effectively with younger audiences within an association's membership.

Mulder was part of a panel of three experts in the field, and he shared the findings of IMA's recent research on the topic of DE&I in Europe. This research study examined the responses of more than 3,000 accounting practitioners in Europe, and it explored ways that organizations can remedy DE&I gaps and drive more diverse, equitable, and inclusive business environments.

Chapter Events

Turkey Chapter: IMA's Turkey Chapter hosted an in-person event on 2 November in Istanbul, featuring speakers Alain Mulder; Bernardin Generalao; Kagan Dagtekin, CEO, Dogan Otomotiv; and Dr. Kerim Kazgan, CMA, president of the IMA Turkey Chapter and CFO, Sanmar A.S. The speakers discussed how the business world is constantly changing and the ways that CFOs must continually adjust themselves to the evolving business environment. The event offered two CPE credits and attracted attendees from around the country.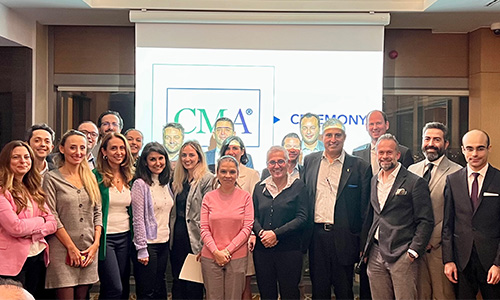 Event at the Turkey Chapter
Kazakhstan Chapter: On 16 November, this chapter hosted an event, titled "European Executive Update on Current Global Economic Conditions." This in-person event, in Almaty, featured speakers Alain Mulder and Botagoz Kamerdenova, president of the Kazakhstan Chapter. It offered one CPE credit.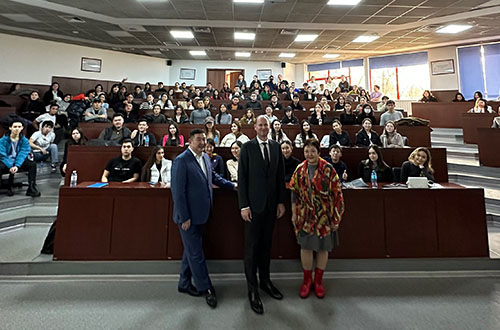 Event at the Kazakhstan Chapter
Amsterdam Chapter: On 12 December, the Amsterdam Chapter hosted a seminar for 2 CPE credits at the Vrije Universiteit. The session, titled "Creating Value for Key Decision Makers," featured speaker Berry Schrijen, an experienced corporate finance professional, serving as Group CFO of Alliance Nutrition Group. During this seminar, Schrijen discussed how understanding an organization's key value drivers can help improve both short- and long-term decision making inside and outside the board room.

UK Chapter: IMA's UK Chapter hosted a webinar on 3 November featuring the IMA ethics course, "IMA Ethics Series: Misplaced Trust. Devastating Fraud." This two-hour course, which offered two CPE credits, discussed the IMA Educational Case Journal (IECJ®) case study, based on a true story that examines the embezzlement of funds by a high-ranking, trusted administrator in the Beaumont Independent School District (BISD) in Beaumont, Texas. This well-attended event was hosted by Lynette Pebernat, CMA, CFM, CPA, CITP, CRISC.

During the webinar, attendees learned how to apply COSO's Internal Control Integrated Framework in evaluating an internal control system; recognize the relationship between proper governance and unethical acts; and determine appropriate steps in resolving an ethical issue.

Switzerland and Austria Chapters: These two chapters combined to host a hybrid event on 10 November, titled "Crisis Management and Sustainability in Times of Inflation and Global Risk." The event featured a panel discussion with speakers Victoria Krammer, Deputy CFO of BAWAG Group in Vienna; Ekaterina Emelianova, CFO of TradexBank AG in Zürich; Pascal Peter, CFO of RÖFIX AG in Switzerland; and Hessel Brouwer, Head of Controlling & Finance MIGROS in Switzerland.

Switzerland Chapter: The IMA Switzerland Chapter hosted two events on the topic of AI. The first, on 4 October, covered the topic of "The Practical AI: 5 Ready-to-Use Applications," featuring speaker Daniele Wälti, telecommunications director at Sunrise. Wälti also hosted a second webinar, on 29 November, on the topic of AI, titled "AI in the Day-to-Day Finance Activities."

Finally, on 6 December, the Switzerland Chapter, in conjunction with EMEA Recruitment, hosted an interactive webinar, led by Jonathan Dave, founder and CEO of MyPhy, on the topic of building your leadership skills. Dave shared his experiences as a successful lawyer/business partner and how to master the art of "InPowerment" via a methodology he created for himself.

For more information on these and upcoming events, visit IMA Europe.