Change username form. Insert an info and press enter to submit, or press escape to close.
Create a new account form. Press escape to close.
Validate mail form. Press escape to close.
Lost password form. Insert an info and press enter to submit, or press escape to close.
Confirm address message dialog. Press escape to close.
IMA Europe had a busy September. The following is a recap of some well-attended events on timely topics:
Finance Transformation in Paris
On 30 September, IMA Europe hosted its special in-person "Finance Transformation International Conference" in Paris. The event attracted IMA® (Institute of Management Accountants) members and prospective members from France and surrounding countries, enabling attendees to hear from leading practitioners, share experiences, and network with other professionals navigating the challenges of digital transformation in finance.
Featured speakers included:
Gwen van Berne, CMA, Chair-Elect, IMA Global Board, who delivered the opening remarks
Steve Zaat, CFO, Air France-KLM Group
Natalia Barsegiyan, CMA, Independent Nonexecutive Director, Domino's Pizza Group plc and Mediclinic International plc; Advisor, Kharis Capital
Eric Freudenreich, CFE, CIA, CRMA, IFAC's PAIB Advisory Group member, COSO President, Institut des Diplômés D'expertise Comptable en Entreprise (ECE)
Dina Gorenko, CMA, ICCF, CFO, Naturopera
Armand Angeli, RPA/IA/SSC Committee DFCG, The French CFO Network
Alain Mulder, senior director, IMA Europe Operations, offered the concluding remarks and also delivered a presentation on "Impact of Technology on the Finance Profession – Race for Relevance."
IMA Europe will host this event in other select European cities: Frankfurt, Istanbul, Amsterdam, Zurich, and Moscow. Visit Finance Transformation International Conference to see full details.

IGC Board Meeting

On 15 September, the Amsterdam offices of IMA Europe served as the host for the board meeting of the International Group of Controllers (IGC). Volunteers, IMA members, and colleagues from 15 countries attended.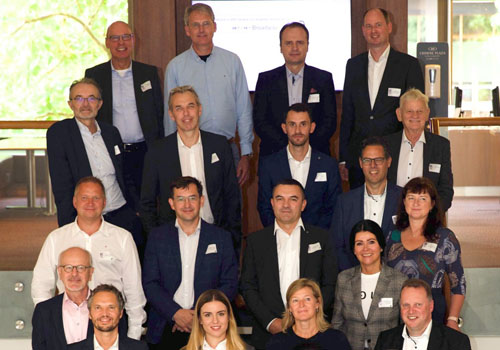 Some attendees at the IGC meeting.
Noted Alain Mulder, "We were pleased to host this important board meeting and to welcome IGC members to our offices. IMA and IGC share a common purpose: preparing accounting and finance professionals for the future. At IMA, we believe the best preparation for such a world lies in our CMA certification program, and we were excited to be part of this event."

IMA prepared a video to welcome the attendees: See it here on IMA Europe's LinkedIn page: https://www.linkedin.com/posts/imaeurope_welcome-to-ima-activity-6840980345521795073-9upj

Research Seminar

On Tuesday, 12 September, IMA held a special seminar, "Advancing Research Development." The seminar offered 1.5 CPE credits as a panel of experts discussed the importance of practice-oriented research and how it can lead to concrete recommendations for action within organizations. The speakers described their specific research projects, including explanations of the application process and operational aspects of a project's implementation phase.
Speaking at the seminar were:
Paul Juras, Ph.D., CMA, CSCA, CPA, IMA Board Chair-Emeritus, Vander Wolf Professor of Managerial Accounting and Operational Performance at Babson College, who provided opening remarks
Loreal Jiles, Vice President, Research and Thought Leadership, IMA, "Advancing the Profession: Research and Thought Leadership"
Prof. Dr. Mike Schulze, Vice Dean of Finance, Accounting & Quantitative Method and Professor of Controlling, Accounting and Financial Management at CBS; Senior Research Fellow at EMS, "Conducting Practice-Oriented Research with Impact—Food for Thought and Past Experiences"
The seminar attracted academics from across Europe, who were eager to listen to the best-practice advice from the panel.
Agile Finance Conference
On 27 September, Loreal Jiles also was among a group of illustrious speakers at the
Agile Finance Conference
, held virtually and themed "Retaining Performance Under Continuous Disruption." The conference, organized by Finance Pro in Greece, provided attendees with practical examples of the advantages of the Agile methodology and its application in the context of the finance department.
Jiles spoke on the topic of "An Agile Approach to Finance Transformation," describing her experiences leading Agile-based finance transformation projects.