Change username form. Insert an info and press enter to submit, or press escape to close.
Create a new account form. Press escape to close.
Validate mail form. Press escape to close.
Lost password form. Insert an info and press enter to submit, or press escape to close.
Confirm address message dialog. Press escape to close.
IMA® (Institute of Management Accountants) hosted numerous successful events in Kazakhstan earlier this quarter, reaching out to students, prospective CMAs, and professionals. Highlights included:
CMA Information Sessions
IMA held two CMA® (Certified Management Accountant) information sessions in January.
On January 28, in Nur-Sultan, IMA hosted a session at the Astana International Financial Center (AIFC), the highlight of which was a presentation from Alain Mulder, IMA senior director, Europe operations, on "How to Become a Certified Management Accountant." During his talk, Mulder described the benefits of IMA membership, the content of the CMA exam, and the steps candidates must take to become certified. After the formal remarks, Mulder led a Q&A session and then attendees engaged in networking.
On January 29, at an event in Almaty organized by our Kazakhstan course provider partner DEKA Controlling, IMA held another well-attended CMA information session. Approximately 40 professionals attended this informative talk to learn more about the management accounting function and how it has evolved in the digital age.
The event included remarks by a representative from DEKA Controlling as well as a presentation by Alain Mulder. In this talk, Mulder described the benefits of CMA certification and the content of the exam. His remarks were followed by a Q&A session and networking.
Chapter Event
More than 60 attendees gathered for this event in the Almaty Intercontinental Hotel on January 29, which helped to mark the reactivation of the IMA Kazakhstan Chapter. The topic of the event was "Finance Executive Update," and it attracted senior CMAs from many international companies.
The event opened with remarks by Askar Mametov, CMA, Kazakhstan Chapter president. Next came a presentation by Mulder, who discussed the findings of the most recent IMA/ACCA Global Economics Conditions Survey (GECS) for the fourth quarter 2019.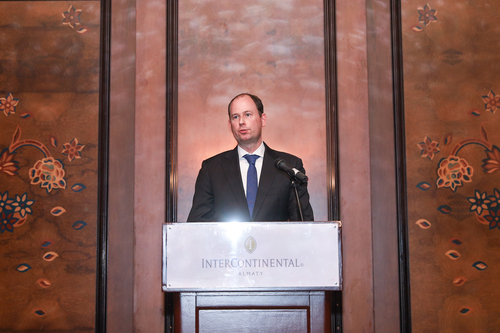 Mulder discusses the recent GECS report.
The highlight of the gathering was a panel discussion, titled "Accelerate Your Career in Finance with CMA Certification," featuring remarks by:
Sercan Bekler, CMA – Director of Finance, Coca-Cola
Dauren Yeleukenov, CMA – Deputy Director, National Bank of Kazakhstan
Timur Akhmetov, CMA – Director in Management Consulting, Head of Management Accounting and Tariff Setting Group, KPMG
Askar Mametov, CMA – CFO, KM Gold Inc. (and Kazakhstan Chapter president)
The panelists shared their knowledge about the changes happening in finance as well as the importance of earning a CMA certification in order to evaluate one's career to a higher level. The event concluded with a networking reception.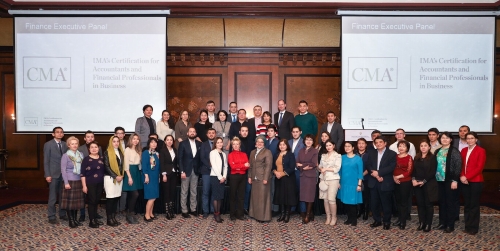 Attendees at the Kazakhstan Chapter event.

Student Leadership Conference
For the first time, IMA hosted a Student Leadership Conference in Kazakhstan, held on the campus of KIMEP University in Almaty. During the half-day January 30 event, nearly 90 students and faculty gathered to learn more about IMA and the CMA. Mulder was the main speaker, and he discussed the benefits of taking the CMA exam while still in school and how it can positively impact a student's career prospects. Mulder also told students about a new competition, which entitles the winner to a trip to IMA's Student Leadership Conference in Pittsburgh, Pa., USA, in November 2020.
Mulder was introduced by Dr. Balzhan Zhussupova, Ph.D., CIA, CFE, assistant professor at KIMEP University, who spoke about the importance of certification. Following the presentations, students engaged in a Q&A session, where they could ask various questions about the educational opportunities IMA offers.
"We had a very active January, with many successful events and the ability to share excellent information about IMA and the CMA to those in Kazakhstan," noted Mulder. "We hope to be able to continue this momentum in the near future and to continue to communicate the message about the value of CMA certification and excellence in management accounting."
For more information on IMA's activities in Kazakhstan, please visit IMA's Kazakhstan Chapter.