Change username form. Insert an info and press enter to submit, or press escape to close.
Create a new account form. Press escape to close.
Validate mail form. Press escape to close.
Lost password form. Insert an info and press enter to submit, or press escape to close.
Confirm address message dialog. Press escape to close.
At a "Future of Finance" event, sponsored by the IMA Switzerland Chapter and Qlik this summer, Indra Moeljadi, CMA, head of finance for the global rare immunology franchise at Takeda, discussed the topic of "Storytelling in Finance: More Than Just the Numbers." The event was held at the offices of Johnson & Johnson in Zug, Switzerland.
In the presentation, Moeljadi described the finance business partner maturity journey, from scorekeeper, through guardian, commentator, advocate, and all the way to up strategic partner. In this last position, the finance professional "innovates, creates value, is a key management team member, and drives opportunities."
Moeljadi then explained that while accounting and finance have a "hard set of rules that govern what we can do and is based on numbers and facts, storytelling is an art and has creative elements." Moeljadi gave examples from a recent Apple press release, showing how the company uses storytelling to provide more context for its financial results. In an answer to the question of "why tell a story?" Moeljadi noted the purpose is to:
Provide context and meaning
Make and justify decisions based on fact-based stories
Put the focus on the underlying business
Provide motivation and encouragement, both internally and externally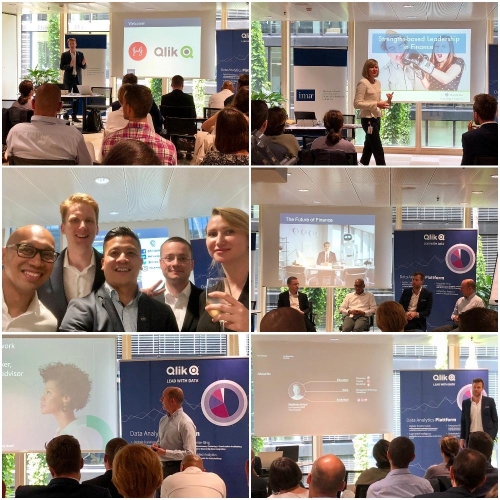 Networking and education at the Switzerland Chapter event
At the conclusion of the presentation, Moeljadi provided some useful links on this topic, including a column by IMA President and CEO Jeff Thomson, CMA, CSCA, CAE, from Forbes titled, "Finance and the Art of Storytelling."
The Switzerland Chapter event also served as a celebration of the chapter's 10th anniversary. Other presenters at the event included:
Simon Kirby, director of financial services industry solutions at Qlik, on the topic of "The 3rd Wave of Data Analytics"
Matthias Weissl, co-founder and CEO at Verum Capital, on the topic of "Fintech: Trends and Use Cases"
Bianca Kux, Gallup certified strengths coach and trainer, on the topic of "Strength-Based Leadership"
For more information on the activities of the IMA Switzerland Chapter, please visit this link.