Change username form. Insert an info and press enter to submit, or press escape to close.
Create a new account form. Press escape to close.
Validate mail form. Press escape to close.
Lost password form. Insert an info and press enter to submit, or press escape to close.
Confirm address message dialog. Press escape to close.
To help support candidates and training organizations, senior staff at IMA
?
(Institute of Management Accountants) are conducting roadshows and workshops about the CMA
?
(Certified Management Accountant) program. This fall, they aimed their efforts at two key regions: Southeast Asia and the Middle East.
Roadshow in Southeast Asia
Ella Suponitskiy, CMA, CPA, CAE, director, exam operations and grading, traveled to Southeast Asia this fall. During her week-long trip, Suponitskiy led several ?Train the Trainer? sessions, providing those who prepare students and professionals for the CMA exam with advanced teaching tools. Specifically, she met with trainers from the following review course providers:
Insights Finance Review Services (Philippines)
Professional Review and Training Center (Philippines)
PSB Academy (Singapore)
Akuntan Manajemen Indonesia Bersatu (Indonesia)
Smart Train (the only approved review course provider in Vietnam)
Suponitskiy leads a ?Train the Trainer? session for Smart Train trainers in Vietnam.

In the Philippines and Vietnam, Suponitskiy had the opportunity to speak directly with student CMA candidates. With these motivated students, she shared a presentation titled ?CMA Tips for Success,? which discussed test-taking strategies and other exam preparation suggestions.
While in Singapore, Suponitskiy and Larry F. White, CMA, CFM, CPA, past IMA Global Board Chair, also attended a meeting of IFAC?s Professional Accountants in Business (PAIB) Committee.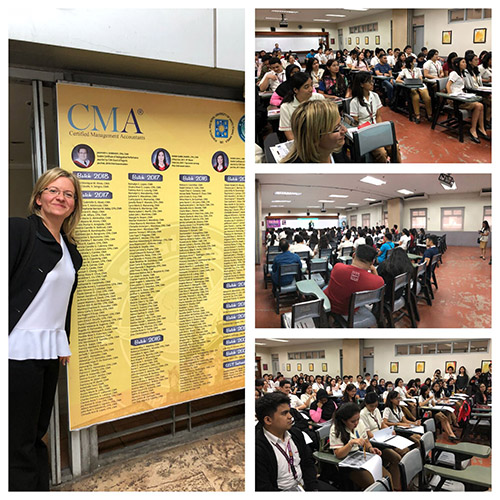 In the Philippines, Suponitskiy shares ?CMA Tips for Success? with a group of student candidates.?
?The CMA program in the Southeast Asia region is strong and growing,? noted Suponitskiy. ?At each of these meetings, I was greeted with enthusiasm and keen interest in how the exam provides greater career choices and a valuable skillset. We are enjoying considerable, and accelerating, success in this region.?
Workshops in the Middle East
Dennis Whitney, CMA, CFM, CAE, senior vice president of certifications, exams, and content integration, traveled to the Middle East to help conduct live workshops for CMA candidates in that region.
The workshops were held in key cities and covered topics such as up-to-date exam techniques, insight on the CMA exam content and process, and effective time management strategies. They also featured a practical, working session on multiple choice and essay questions.
Whitney led the workshops in three cities: Dubai, Kuwait, and Cairo. Other workshops were led by dedicated, local IMA volunteers, including:
Gaby Lahoud, CMA (in Beirut, Lebanon; in Khartoum, Sudan; in Amman, Jordan; in Delhi, Hyderabad, Bangalore, and Kochi, India)
Mohammed Tamimi, CMA (in Riyadh, Jordan)
Adam Moati, CPA (in Dammam, Saudi Arabia)
Yahia Kafi, CMA, CFM, CPA (in Jeddah, Saudi Arabia)
As part of his Middle East trip, Whitney also participated in a radio interview with Nile FM in Cairo. A link to the interview can be found at: http://www.nilefm.com/digest/article/2401/cma-how-to-get-into-accounting-dennis-whitney-interview.*?

During the interview, Whitney discussed the attraction of the CMA for non-U.S. candidates. He also noted that the CMA ?is focused on the skills that are most in demand by finance teams today: planning, decision support, risk management. The CMA is different from the other designations in that it?s not all about financial reporting and oversight. It?s more about the insight skills and the foresight skills that accountants need today and in the future.?
*Since the publication of this article, some users have reported that they are not able to access this link via Internet Explorer. If you wish to access the link, please try using a different web browser.