Change username form. Insert an info and press enter to submit, or press escape to close.
Create a new account form. Press escape to close.
Validate mail form. Press escape to close.
Lost password form. Insert an info and press enter to submit, or press escape to close.
Confirm address message dialog. Press escape to close.
IMA
®
(Institute of Management Accountants) continues to extend its presence in India, where senior leaders recently spent 10 days strengthening relationships with universities, course providers, chapters, and corporations to encourage CMA
®
(Certified Management Accountant) certification.
Dennis Whitney, CMA, IMA senior vice president, and Jim Piechowski, CAE, IMA director of international operations, led the meetings, accompanied by staff from IMA's Bangalore office: Fenil Vadakken, country head; Lata Murli, business relations manager; and Livya Wilson, operations specialist.
Hyderabad
On this first leg of the trip, the team met with the IMA Hyderabad Chapter board and gave a presentation at a well-attended chapter event, which attracted both professionals and students. Whitney also addressed a gathering of more than 400 students at Loyola College. Other visits included meetings with senior leaders at Miles Education, an IMA-approved course training provider, and a corporate visit to Franklin Templeton.
During the group gatherings, Whitney delivered presentations on topics of timely interest to accountants around the world: "Technology and Digitization: Impact on Accounting and Business" and "The Future of Accounting and the CMA Program."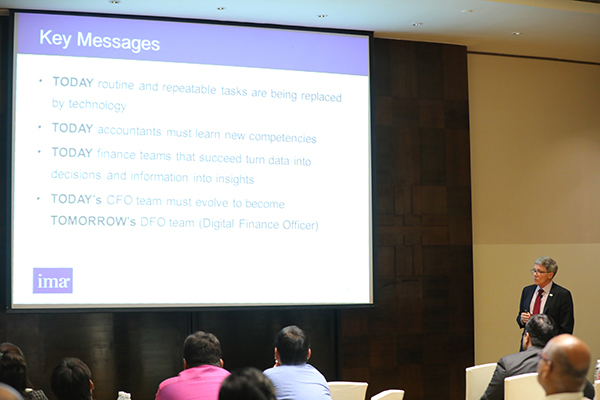 In Hyderabad, Whitney discusses the impact of technology on accounting.
Noted Whitney, "Currently, we have approximately 600 Active CMAs and more than 3,000 CMA candidates in India, and those numbers have risen steadily over the past several years. We continue to see strong interest in the certification, as accounting professionals realize the advantages – both with respect to salary and promotion opportunities – that being a CMA offers."
Bengaluru
The team held an event at the Bengaluru Chapter, where Whitney delivered his talk on technology and digitization. He also gave a brief on the topic of blockchain, including discussing how this development is transforming the work of accountants.
Academic visits included presentations at Christ University, one of the top-ranked universities in India, as well as St. Joseph College of Commerce and Jain University – all three of which were attended by hundreds of students. Corporate meetings were held at IBM, Amazon, Accenture, and others. The team also met and held events with several course providers: Northstar, CFO Next, and Hi Educare.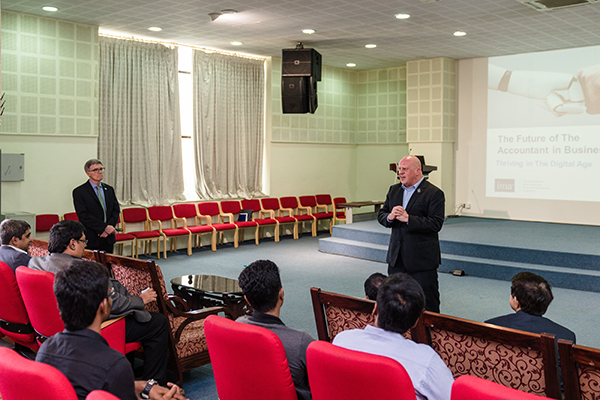 Piechowski introduces "The Future of the Accountant in Business" in Bangalore.
"Developing strong relationships with course providers is a key component of our strategy in India," explained Piechowski. "They are our eyes-on-the-ground, helping to prepare folks to take the exam and to provide the necessary support for them to succeed. We are pleased to have developed such strong affiliations with many well-known partners, and we look forward to continuing to build this network."
Delhi
After a brief stop in Cochin – where the team made two academic presentations – the team traveled to Delhi to connect with partners, corporations, and the IMA chapter there. Academic visits included Manava Rachana University, which featured a meeting with the university's vice chancellor. Thanks to introductions by training partner Miles Education, the team also met with professionals from several corporations, including Max Life and AIG, who expressed interest about pursing the CMA certification.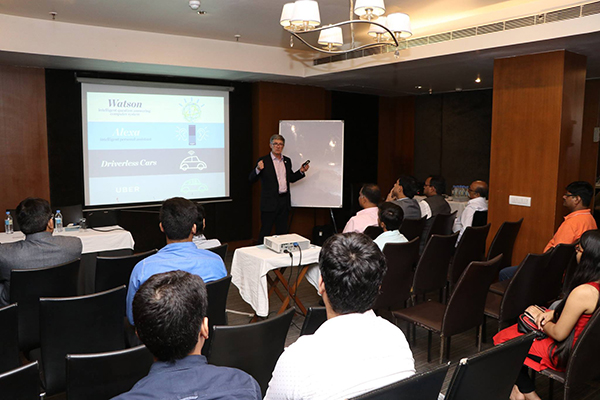 Whitney discusses the impact of technology at a Delhi Chapter event.
Finally, the team attended a chapter event in Delhi, where they delivered an update on IMA's plans for its 100
th
Anniversary and discussed IMA's proposed enhanced Competency Framework.
The visit also resulted in some excellent press coverage for the CMA and the IMA team: Whitney's talk on the topic of automation in accounting was featured in two Hyderabad newspapers, under the headlines "Automation to hit accountants" and "Shape up or ship out, cautions IMA."
For more information on IMA's activities in India, please visit
IMA regional chapters
.