Change username form. Insert an info and press enter to submit, or press escape to close.
Create a new account form. Press escape to close.
Validate mail form. Press escape to close.
Lost password form. Insert an info and press enter to submit, or press escape to close.
Confirm address message dialog. Press escape to close.
To celebrate the 10
th
anniversary of the Chinese CMA
®
(Certified Management Accountant) exam, IMA
®
(Institute of Management Accountants) on December 1 hosted a Management Accounting Summit in Beijing. Attending on behalf of IMA leadership and speaking on a variety of relevant topics were IMA Chair Alex Eng, CMA, CPA, Esq.; Doreen Remmen, CMA, CSCA, CAE; Dennis Whitney, CMA, CFM, CAE; and Jim Gurowka, CAE.
The summit, which attracted more than 400 finance and accounting executives from across China, focused on key topics in management accounting, including challenges and opportunities faced by the profession in the midst of artificial intelligence and Big Data.
Alan Bai, CMA, IMA's director of the Asia Pacific region and chief representative of China, said, "This summit provided a perfect opportunity to celebrate the accomplishments of the Chinese CMA exam, which has achieved remarkable growth over the past 10 years. We are especially grateful for the strong support for the CMA exam that we have received from many large corporations in China, including China South Industry Group, Ping An Group, Haier Group, and ICBC. We look forward to continuing to build and strengthen these relationships as we mutually seek to equip accounting and finance professionals with skills critical for individual as well as organizational success."
He continued, "We also are very grateful to those who attended this summit, and we hope this event serves as a platform for mutual exchange for accounting professionals to share insights on management accounting."
Leading off the event was Jim Gurowka, IMA senior vice president of international business development, who discussed the impressive growth of the CMA program in China. He noted that by the end of November 2017, the number of CMA certification holders in China had exceeded 10,000, the number of CMA candidates had surpassed 25,000, and there are about 75,000 CMA candidates and certification holders in the world. Said Gurowka, "With the fast development of management accounting, more and more enterprises need CMAs to help them improve the level of strategic decision making, oversee the development of new technology, and take the lead in global business competition."
Delivering a keynote address as IMA Chair, Alex Eng spoke on the topic of "the future of management accounting and artificial intelligence." Eng noted how artificial intelligence and other emerging technologies will free people from repetitive mechanical work to complete more creative, challenging, and strategic work.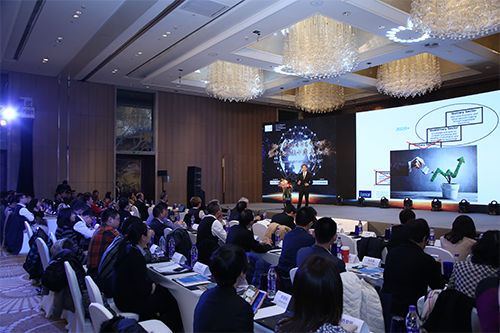 IMA Chair Alex Eng delivers his keynote address to the summit attendees.
Speakers at the summit included a wide array of professional and educational leaders, including Fu Junyuan, executive director and CFO of China Communications Construction Co., Ltd.; Yu Zengbiao, accounting professor of Tsinghua SEM and doctoral tutor, and Feng Yanling, general manager of the Planning and Finance Department of Xiamen Airlines.
Other featured speakers included Xiao Bin, senior vice president of finance and operations at Guangzhou Xiaopeng Motors Technology Co., Ltd.; Yu Yan, deputy general manager of financial management headquarters of China Grand Enterprises; Wang Juan, CFO of Besunyen Holdings Company Limited; Li Bin, CFO of Shenzhen Qianhaiya Telecom E-commerce Co., Ltd.; Du Yuanyuan, the financial director of Hunan Kangcheng Care Products Co., Ltd.; and Zhu Jing, financial consultant, financial writer, and guest lecturer of Zhongshan University.
During the summit, IMA presented awards to enterprises and individuals who have made outstanding contributions to promoting management accounting practices. Winners included Midea Group, Xiamen Airlines Co. Ltd, State Grid Shanghai Municipal Electric Power Company, and Transfar Group. Awards were also presented for the first IMA Management Accounting Case Writing Contest, with first prize going to "Bargaining Power: The Driving Force of the Operating Cycle and the Cash Cycle" by Lin Huikang.
Eng congratulated the winners after the awards ceremony. He noted the growth of CMA certification in China and around the world. Said Eng, "The increase in the number of CMA certification holders, candidates, and exam centers demonstrates how the global influence of our certification is becoming stronger and stronger."
For more information on IMA's activities in China, please visit
https://www.imanet.org.cn/
. For further details about CMA certification, please visit the IMA website at
https://www.imanet.org/cma-certification
.