Change username form. Insert an info and press enter to submit, or press escape to close.
Create a new account form. Press escape to close.
Validate mail form. Press escape to close.
Lost password form. Insert an info and press enter to submit, or press escape to close.
Confirm address message dialog. Press escape to close.
Enter the "Gateway to Success" at this year's IMA
®
(Institute of Management Accountants) Annual Student Leadership Conference (SLC). The conference will be held on November 1-3 at the Hilton St. Louis at the Ballpark; registration is now open at
www.imaslc.org
.
The conference promises three days of networking, learning, and fun. Keynote sessions will include:
Leadership Building Blocks: What Kind of Leader Are You? – In sharing both her successes and failures (including living in a canoe for two weeks to study situational leadership), motivational speaker Shannon McKain will explain how the "Four Pillars of Leadership" can make or break any organization.
Advice from the C-Suite: Lessons on Leadership, Learning, and Life – A panel of distinguished Fortune 500 C-suite leaders will answer questions such as: How is technology altering the daily roles of the accounting and finance staff? How do I maintain work/life balance? How do I keep current with professional issues?
Why Do Ordinary People Commit Extraordinary Financial Crimes? – No matter where you are in your career journey, you must face ethical dilemmas in life and at work. Award-winning filmmaker, educator, and ethics expert Kelly Richmond Pope will share true accounts of white-collar offenders who "crossed the line" and committed financial crimes.
In addition to the keynotes, concurrent sessions will offer insights that can help students land their first professional position, including interviewing techniques as well as how to prepare for the CMA® (Certified Management Accountant) exam. Other sessions will cover "hot topics" such as data analytics and blockchain.

"We've assembled an outstanding slate of speakers for this year's conference, as well as many opportunities for students to make contacts that can help them in their careers," said Jodi Ryan, CAE, IMA director of student engagement. "Numerous companies will be collecting résumés to fill internship and entry-level positions, so students should bring along copies." Please visit the IMA website to see a full list of sponsors and exhibitors.

Ryan also noted that Cummins Inc. and General Mills will be conducting interviews on-site at the conference. To be considered for these interviews, students must upload their résumé when they register.

Several fun and educational networking events are also planned. On Thursday afternoon, attendees have the opportunity to learn more about accounting and finance in action by choosing one of three optional industry tours: Federal Reserve Bank of St. Louis, Nestlé Purina, and Busch Stadium (home of the St. Louis Cardinals). Later that day, a Welcome Reception is planned; so is a Student Chapter Leadership Roundtable, for students interested in starting or growing an IMA student chapter.

On Friday night, attendees are invited to unwind (and even ride a mechanical bull) at a dinner buffet at PBR St. Louis. At the event, judges will be on hand for the annual t-shirt design competition. Be sure to have your school participate and join in the fun of this popular event. This year's winner receives $500 for their school or student chapter; details are available at SLC18 - TShirt Design.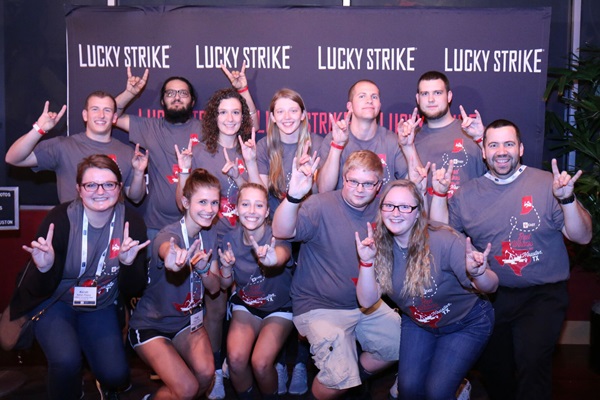 Students from Indiana University East were one of the two co-winning teams from last year's t-shirt design contest.

After the conference concludes, attendees have two more opportunities to extend the fun and fellowship: a tour of the Gateway Arch and a visit to a St. Louis Blues hockey game (note: additional fees apply).

IMA once again will offer a conference app (available on Google Play or the Apple App Store), which will allow attendees to create a personalized schedule, as well as view session information, speaker bios, exhibitor/sponsor information, and more. There will also be an opportunity to have a free professional photo taken to use on your LinkedIn profile.

Still need more convincing? Watch this YouTube video from last year's conference.

For complete details, including registration information, please visit www.imaslc.org. To keep up with the latest news, follow us and join the conversation at #IMASLC18 on IMA's Instagram, Facebook, and Twitter pages.