Change username form. Insert an info and press enter to submit, or press escape to close.
Create a new account form. Press escape to close.
Validate mail form. Press escape to close.
Lost password form. Insert an info and press enter to submit, or press escape to close.
Confirm address message dialog. Press escape to close.
December graduates: Don't miss the opportunity to be recognized for your academic achievements by joining the IMA Accounting Honor Society (IAHS).
IAHS membership is available to students who meet the following eligibility criteria:
•
Attend an accredited U.S. college or university
•
Be a declared Accounting, Finance, or IT major
•
Have taken a minimum of three accounting courses
•
Be enrolled in junior year or later in an undergraduate program, or a graduate or Ph.D. program
•
Have an overall and Accounting GPA of 3.0
•
Provide a transcript as proof of eligibility
•
Pay a one-time fee of $50 for lifetime membership
Students can be nominated by a professor or provide proof of meeting eligibility requirements in order to be accepted into IAHS. As an IAHS member, students receive one year of free IMA® (Institute of Management Accountants) membership (valued at $39), a Certificate of Recognition, a graduation cord, and a digital newsletter. IAHS is supported by a Corporate Advisory Board composed of influential leaders from the business and education communities.
For professors, IAHS membership is a great way to give their top students the recognition that can help them as they enter the job market. Carol Sullivan, Ph.D., CMA, CPA, is an associate professor of accounting at UT Permian Basin. She says her school holds an awards reception every spring where students receive their IAHS certificates and graduation cord.
"Students, their parents, and friends attend the ceremony, which is a wonderful opportunity to acknowledge the hard work these students have put in over the years. Becoming a part of IAHS helps to build the students' confidence and gives them an advantage when searching for that first job," says Sullivan.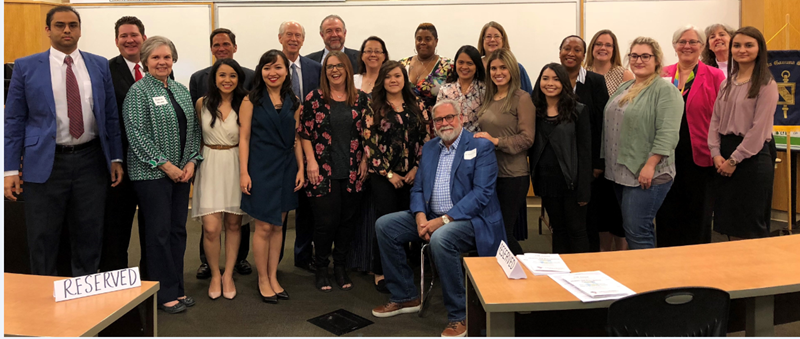 Students recognized during UT Permian Basin's most recent awards reception.
For students at UT Permian Basin, the opportunities abound in the oil industry. According to Sullivan, the area surrounding the school is responsible for 40% of the oil production in the U.S. Many students go on to work for oil companies and having the IAHS recognition is a nice point of differentiation.