Change username form. Insert an info and press enter to submit, or press escape to close.
Create a new account form. Press escape to close.
Validate mail form. Press escape to close.
Lost password form. Insert an info and press enter to submit, or press escape to close.
Confirm address message dialog. Press escape to close.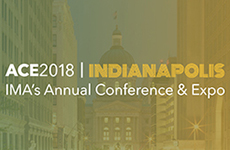 Free time this summer? All IMA® (Institute of Management Accountants) academic members are invited to attend this year's IMA Annual Conference & Expo, to be held June 16-20 at the JW Marriott in Indianapolis. This year's Conference, themed "Infinite Potential," will provide numerous opportunities for academic members to interact with peers and practitioners. Register here by March 31 and receive special Early Bird rates, up to $340 in savings.

Once again this year, the Conference will offer an Applied Research Track integrated into the general program. IMA academic members can support their peers by attending the following sessions:
"Advance Your Management Accounting Knowledge and Skills with Cutting-Edge Research" – This roundtable session is a forum where academics and professionals can interact, where academics can obtain new practice insights, and practitioners can learn about research projects currently being pursued by management accounting researchers. Session participants have the opportunity to discuss research findings in small groups with the researchers on topics of personal interest. (Tuesday, June 19, 11 a.m. to 12:15 p.m.)
"Best Practices in FP&A: What a Global IMA Survey Reveals" (led by Lawrence Serven) – In this highly interactive session, you'll have the opportunity to discuss a global FP&A survey of more than 700 companies and institutions. The intent was to find out what the most successful organizations are doing differently in FP&A, and the survey resulted in the identification of 12 Principles of Best Practice FP&A, as well as implications for staffing, professional development, and technology. (Tuesday, June 19, 2:15 p.m. to 3:30 p.m.)
"Ethics Update with Curt Verschoor" – Learn about developments in the field of ethics including the impact of organizational mission, vision, strategy on ethical behavior, the impact of trust and ethical culture in the organization, and revisions to the IMA Statement of Ethical Professional Practice. (Tuesday, June 19, 4 p.m. to 5:15 p.m.)
The Conference will also feature opportunities to participate in the Solutions Showcase/Research Lab. At the Research Lab, open Monday, June 18, from 10:30 a.m. to 11:15 a.m., attendees are invited to participate in surveys conducted by academics. There will also be a Solutions Showcase & Networking Reception, held on Monday from 5:15 p.m. to 6:30 p.m. Over casual conversation and hors d'oeuvres, academics will have the opportunity to discuss their management accounting research with Conference participants and gather insights for their practice-based research.

Raef Lawson, Ph.D., CMA, CSCA, CPA, CFA, IMA vice president of research & policy and Professor-in-Residence, said, "IMA's Annual Conference & Expo offers a unique opportunity for academics and practitioners to exchange ideas. Practitioners get to learn more about the latest developments in management-accounting research, while academics gain valuable perspectives into real-world challenges. The sessions in our Applied Research Track, in particular, can provide academics with insight that can strengthen their classroom teaching and research focus."

Click here to see YouTube video highlights from last year's conference in Denver, and follow the conversation on Twitter at #IMA18ACE.

Remember: Special Early Bird registration rates for this year's IMA Annual Conference & Expo apply only until March 31. For more information, including complete registration details, please visit www.imaconference.org.