Change username form. Insert an info and press enter to submit, or press escape to close.
Create a new account form. Press escape to close.
Validate mail form. Press escape to close.
Lost password form. Insert an info and press enter to submit, or press escape to close.
Confirm address message dialog. Press escape to close.
With graduation looming and an increasingly competitive job market waiting, the importance of differentiation is more crucial than ever. The IMA Accounting Honor Society (IAHS) offers students the opportunity to stand out from their peers and gain recognition for their academic achievements.

IAHS membership is available to all students – IMA® (Institute of Management Accountant) members and nonmembers alike – who meet the following eligibility criteria:
Attend an accredited college or university in the U.S.
Be a declared accounting, finance, or IT major
Have taken a minimum of three accounting courses
Be enrolled in junior year or later in an undergraduate program, or a graduate or Ph.D. program
Have an overall and accounting GPA of 3.0
Provide a transcript as proof of eligibility
Pay a one-time fee of $50 for lifetime membership
To be accepted into IAHS, students can be nominated by a professor or they can provide proof of meeting eligibility requirements. As part of IAHS benefits, members receive a Certificate of Recognition, a graduation cord, digital badge recognition, access to a members-only LinkedIn group, and a digital newsletter. IAHS is supported by a Corporate Advisory Board composed of influential leaders from the business and education communities.

William Koprowski, Ph.D., professor of accounting at University of North Carolina at Asheville and long-time CMA® (Certified Management Accountant), has been a strong supporter of the program since its inception in 2015. Koprowski says that his school offers IAHS membership to all senior accounting majors who meet the eligibility requirements.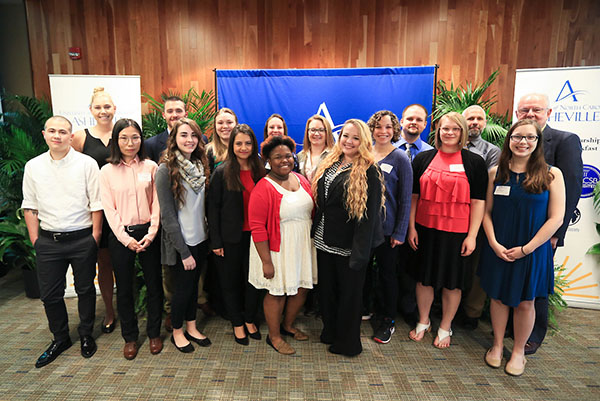 Students at UNC Asheville are recognized as IAHS members during an annual awards ceremony.

Koprowski says that IAHS serves an important purpose: "We are a fairly small program and don't have a Beta Alpha Psi chapter on campus, so this is an excellent way to recognize our outstanding students." He explains that the school holds an awards breakfast each spring, where, as part of the ceremony, IAHS inductees take a pledge and receive their graduation cord.

IAHS membership has become so coveted, Koprowski reports, that students now come to him and inquire about why they weren't asked to join. "I have to tell them we only do it for seniors right now – they'll have to wait until next year!" he says.

For more information about IAHS, please visit www.iahs.org or contact IAHS Member Services at (800) 638-4427.