Change username form. Insert an info and press enter to submit, or press escape to close.
Create a new account form. Press escape to close.
Validate mail form. Press escape to close.
Lost password form. Insert an info and press enter to submit, or press escape to close.
Confirm address message dialog. Press escape to close.
Nearly 600 participants took up the challenge to "Dream Big" at this year's IMA® (Institute of Management Accountants) Student Leadership Conference. The conference attracted students from across the globe and from more than 100 schools, including student delegations from the People's Republic of China, India, and the Middle East. During their three days at the Marriott Marquis Houston, attendees gained valuable insights from prominent speakers, connected with new contacts and industry leaders, and acquired a fresh perspective on their future careers.

Keynote presentations included "Become a Game Changer!" a look at what it takes to have the passion, focus, and drive to succeed, led by motivational speaker Mike Lejeune; "Embracing Change: An Important Life Lesson," an interactive session by Schlumberger Vice President Claudia Jaramillo about the importance of being a good listener and being willing to accept change; and "Rules vs. Principles," a fascinating talk by former Enron CFO Andrew Fastow.

Concurrent sessions focused on careers in management accounting, résumé writing and interviewing skills, budgeting and forecasting, the value of CMA® (Certified Management Accountant) certification, and more. Popular sessions included Forensic Accounting, Career Reflections, Financial Leadership by the Numbers, as well as the Student Chapter Leadership Roundtable, offered for students and faculty interested in starting or growing an IMA student chapter.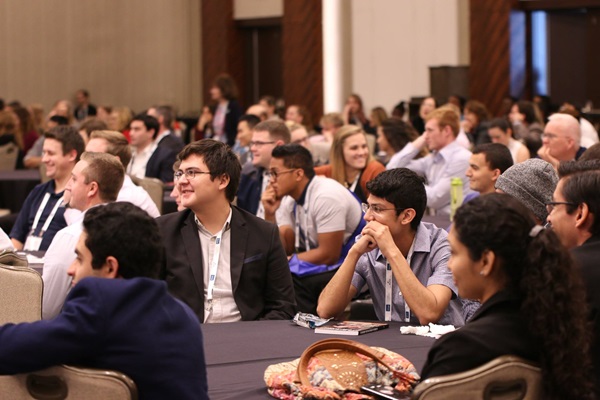 Students enjoying a session during the conference.

Attendees also enjoyed several fun and educational networking events, including optional industry tours to Minute Maid Park, home to the 2017 World Series champion Houston Astros, CenterPoint Energy, Dynegy, and Hess Corporation. Students also had a chance to unwind at Lucky Strike and enjoy a dinner buffet and bowling outing on Friday night, which also served as the finals for the sixth annual t-shirt design contest. This year the judges selected co-winners who will both receive a $500 prize and bragging rights: Indiana University East and University of Tennessee at Chattanooga. The judges had a hard time selecting as there were so many creative entries!

As host city Houston was recently hit by the devastating Hurricane Harvey, this year IMA made a special donation to the Red Cross in support of hurricane relief efforts: a one-time donation of $5,000, as well as an additional donation of $10 per every conference registration received before September 30.

"We are once again grateful to everyone who helped make this year's student conference another tremendous success. We wish to thank our outstanding group of presenters who shared their time, knowledge, and expertise with our attendees. We also appreciate the generous support of our sponsors and exhibitors as well as Stuart Cameron McLeod Society and the numerous IMA members who financially supported the event through donations or by sponsoring student attendance. We hope that attendees enjoyed the conference and gained insights they can take with them as they plan their future careers," said Jodi Ryan, IMA director of student and academic relations.

Select handouts from conference sessions can be found at www.imastudentconference.org as well as on a special conference app. You can also see more highlights and photos by visiting #IMASLC17 on IMA's Facebook and Twitter pages.

And watch future issues of Campus Connection for information about next year's Student Leadership Conference, which will be held in St. Louis, Mo. on November 1-3, 2018.