Change username form. Insert an info and press enter to submit, or press escape to close.
Create a new account form. Press escape to close.
Validate mail form. Press escape to close.
Lost password form. Insert an info and press enter to submit, or press escape to close.
Confirm address message dialog. Press escape to close.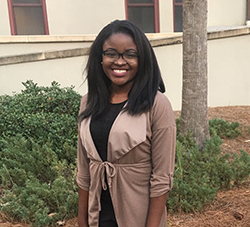 Growing up in Nigeria, Diane Isibor had the opportunity to take a class most students in the United States don?t get to take: accounting. ?I found out that I was pretty good at it, so it became my chosen career path,? she explained. After high school, Diane received a generous scholarship to Valdosta State University in Valdosta, Georgia, where she is currently a senior, double majoring in accounting and finance, and about to begin her professional journey.
Over the past four years, Diane has enjoyed being part of her school?s IMA
?
(Institute of Management Accountants) student chapter and most recently, has taken on a leadership role, currently serving as the chapter?s director of special events and plant tours. In addition, she has been selected for an IMA Memorial Education Fund Scholarship and a CMA
?
(Certified Management Accountant) Scholarship, the latter of which pays for CMA exam registration and test fees and comprehensive exam preparation materials; she plans to take Part 1 of the exam in the May/June 2017 testing window.
Earning the CMA is part of Diane?s plan to become a management accountant, which coincides well with the job she will begin soon after graduation. For that job, Diane expresses gratitude to IMA: While attending her first IMA Student Leadership Conference (SLC) in Orlando in 2015, Diane was selected for an onsite interview with Cummins Inc. Based on that interview, she earned a coveted internship at Cummins this past summer, which enabled her to spend three months at their Columbus, Indiana, headquarters. Recently, Diane was offered a full-time position as a financial analyst at the Cummins facility in Atlanta, Georgia, and she will begin working there this July.
?I?m so grateful to IMA for giving me the opportunity to interview at the Student Conference,? Diane said. ?I tried to find an internship myself ? going online and applying ? but it just wasn?t working out. At SLC, IMA brings the companies to you.?
Diane also appreciates the leadership opportunities that IMA has opened up for her: ?Although I had held leadership roles on campus prior to joining IMA, as an orientation leader and a university ambassador, IMA helped to teach me the value of developing those skills.?
To strengthen those skills, and because she enjoys helping others, Diane makes it a point to give back, especially to younger students. At the most recent SLC in Detroit, for example, she served as a mentor to the ten other students from Valdosta State who attended, many for the first time. ?We worked on getting prepared for their interviews, deciding what sessions to attend, and things like that. I?m glad I could share my experience and offer some guidance,? she said.
Looking ahead, Diane is excited about her future career: ?One of the things that attracted me to management accounting rather than public accounting is that I like to be involved in planning and decision making. I enjoy helping an organization determine what the best options are ? and not just checking someone else?s work. I think management accounting is going to be the perfect fit for me.?