Fall 2016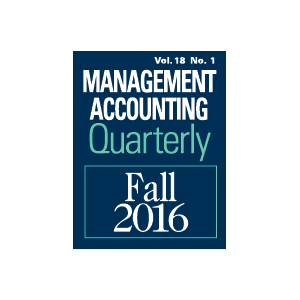 Articles
By Donald Gribbin, Ph.D., CPA, and Jagjit Singh Saini, Ph.D., CMA
Here is the story of a new way to give students and practitioners a way to interact with each other and offer students a chance to work on a real-world project that will help them develop critically needed skills. In the Student-Practitioner Interaction (SPI) program, a senior-level accounting class worked on a capital budgeting case written by executives of a local Fortune 500 company in the medical device industry. Students, faculty, and the executives interacted throughout the project.
Business Judgments and National Culture: A Comparison of U.S. and Italian Management Accountants
By Mary Curtis, Ph.D., CPA, CISA; Teresa Conover, Ph.D.; Lorenzo Lucianetti, Ph.D., CPA; and Valentina Battista

In this age of increasing globalization where individuals from different cultures are asked to work together, conflict and misunderstanding inadvertently can arise because of the variations in work styles, customs, attitudes, and approaches. To better understand potential clashes and how to prevent them, the authors surveyed accountants from Italy and the United States in a study funded by the IMA® Research Foundation.
Cycles of Lean: Findings from the Leanness Studies - Part 2
By Richard J. Schonberger, Ph.D.
Part 1 of the article, which was published in the Summer 2016 issue, showed how leanness, as measured by long-term inventory turnover trends, rises and falls in multiyear cycles. Part 2 describes leanness rankings by industry sector, how certain costs are affected by Lean or its lack, and that Lean can still be viable, particularly in the services industry.