Remembering Jason C. Porter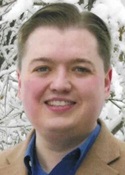 It is with sadness that IMA® (Institute of Management Accountants) announces the passing of Jason C. Porter, Ph.D., 45, on August 23, 2023. Jason was an associate editor of the IECJ® (IMA Educational Case Journal) and had recently been honored with IMA's 2022 Distinguished Scholar Award. A member of IMA's Portland Chapter and speaker at IMA conferences, Jason also co-authored the 2024 Student Case Competition feature, "Determining How to Classify Stock Investments: The Case of Unbekannt, Inc.," published in the August 2023 issue of Strategic Finance.
Jason was born in Provo, Utah, and earned his associate degree from Snow College. Following his mission service for the Church of Jesus Christ of Latter-Day Saints, he returned to Provo to attend Brigham Young University. After earning his bachelor's and master's degrees, he moved with his family to Athens, Ga., where in 2006, he completed his Ph.D. at the University of Georgia. Jason taught for eight years at the University of Idaho and for four years at the University of South Dakota before joining the faculty of the Carson College of Business at Washington State University in 2018 as a scholarly associate professor.
Jason was an accomplished author of accounting textbooks and cases, research publications, course-specific materials, and short fiction. His prolific and thoughtful writing gained him the admiration and respect of peers, students, and other professionals. He also received many awards for his service throughout the years, including WSU's Global Campus Excellence in Online Teaching Award and the University of South Dakota's top teaching honor, the Belbas-Larson Award. Despite all the honors he received, Jason maintained his strong focus on his students, making sure that their learning was his top priority. His famous catchphrase was "I have a spreadsheet for that!" Outside of spreadsheets, two of Jason's greatest passions were cooking and making chocolate candy—for the latter, he learned skills from his grandmother and was very proud to continue her legacy in his own way. Above all, Jason's family and faith were of the utmost importance to him.
Laurie Burney, Ph.D., CMA, associate professor of accounting at Baylor University and IMA's professor-in-residence, worked along with Jason as a co-associate IECJ editor. She said, "Jason's impact on the accounting profession is beyond measure. He was clearly a gifted teacher, and his love of people and accounting were evident in his passion for nurturing and developing others. IMA and the IECJ were blessed to have his support and efforts. On a personal note, I will dearly miss his 'dad jokes' and his wise guidance."
Online condolences may be sent to https://www.corbeillfuneralhomes.com/obituary/jason-porter, where numerous colleagues, students, and friends have shared their recollections and reflections on Jason's life.