Change username form. Insert an info and press enter to submit, or press escape to close.
Create a new account form. Press escape to close.
Validate mail form. Press escape to close.
Lost password form. Insert an info and press enter to submit, or press escape to close.
Confirm address message dialog. Press escape to close.
Recent Visit to India Helps to Strengthen, Forge Relationships
A recent visit to India by IMA CEO and President Jeff Thomson, CMA, CSCA, CAE, and Jim Gurowka, CAE, IMA senior vice president, is helping to strengthen IMA's relationships in that country. The 10-day trip included a speaking opportunity at an important international conference, plus meetings with universities, corporate partners, and members in the region.
The trip kicked off in Delhi, where Thomson presented on the topic of ESG (environmental, social, and governance) at an event sponsored by IMA's Delhi Chapter, which is led by president Sanjay Kumar Garg, CMA. While in Delhi, Thomson also met with several well-known multinational companies, where he discussed IMA's leadership in the areas of ESG and sustainability as well as the IMA Finance Academy, which enables organizations to offer CMA® (Certified Management Accountant) training to their accounting and finance staffs.
Among the highlights of the visit was IMA's participation at the 21st World Congress of Accountants (WCOA), hosted in partnership with the International Federation of Accountants (IFAC) and held for the first time in India, in Mumbai, in more than 118 years. In total, the event, themed "Building Trust Enabling Sustainability," attracted more than 10,000 professionals from 120+ countries and representing more than 50 global professional accounting organizations.
IMA participated as a silver sponsor for the event and sponsored a booth (see the photo below). Thomson also spoke on the topic of technology and the future during a panel session. During the conference, Thomson, Gurowka, and the IMA India team met with representatives from many other leading accounting and finance organizations – including ACCA (Association of Chartered Certified Accountants), NBA Netherlands, the Institute of Cost Accountants of India, and other organizations in Europe, AsiaPac, and South America – where they discussed current and potential collaborations and partnerships.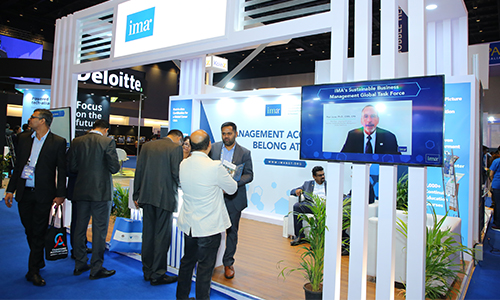 While at the WCOA, the IMA team met with representatives from several universities: Shaheed Sukhdev College of Business Studies, CHRIST (Deemed to be University), and SRCC (Shri Ram College of Commerce). Discussions focused on IMA's Higher Education Endorsement Program and the development of a CMA-focused curriculum at these institutions. In Mumbai, Thomson and Gurowka also spoke at an event sponsored by the IMA Mumbai Chapter, which was led by president Rujuta Rame, CMA. Titled "The ESG/Sustainability Journey: A Great Opportunity for Management Accountants," the event included a discussion of why ESG has become indispensable to financial performance.
Serving in a valuable role during the Mumbai leg of the visit was Sunil Deshmukh, CMA, a member of the IMA Global Board of Directors, who also was Thomson's voting proxy during the IFAC Council meeting held during the WCOA.
Pictured below are members of the IMA team (from l. to r.: Fenil Vadakken, Pranesh Krishnan, Gurowka, Srividhya Rajaram, Thomson), plus Deshmukh (on the far right).
Commenting on the visit, Thomson said, "India is a remarkable country, one that has great national pride and whose economy is growing at a significant rate. The appetite for certifications like the CMA is strong and increasing in the region, and so, with this visit, we hoped to extend awareness about the value of the CMA certification. It was an honor for Jim and I to attend the WCOA and meet with peers at this esteemed event, where we also had the occasion to discuss IMA's thought leadership on the important topic of ESG.
"Of course, a highlight of these trips for me is the opportunity to meet with IMA members, CMAs, and CMA candidates, who continue to inspire me with their commitment to their careers and respective organizations."
For more information on IMA's activities in India, please visit the IMA India webpage.