Change username form. Insert an info and press enter to submit, or press escape to close.
Create a new account form. Press escape to close.
Validate mail form. Press escape to close.
Lost password form. Insert an info and press enter to submit, or press escape to close.
Confirm address message dialog. Press escape to close.
Five accomplished young professionals from around the world had the opportunity recently to participate in the 2021 Young Professional Leadership Experience (YPLE). A successful IMA® (Institute of Management Accountants) program started in 2016, the YPLE gives select young professions (under age 40) a first-hand look into the inner workings of the IMA Global Board and committees through a comprehensive five-month leadership training experience.
The five professionals attended the recent IMA Global Board gathering in Denver on October 22-23, where they participated in meetings of the full Board and the Volunteer Leadership Committee (VLC). These professionals were in fact selected in 2020, but due to COVID-19, their participation in these meetings was delayed. Each participant was paired with a "Board buddy" and spent the last five months working through activities designed to help them enhance their leadership development and give back to IMA.
Fortunately, two of the group members were able to attend the Denver meetings in person and three others attended virtually (all IMA meetings in Denver were also held in this hybrid format). The group had the opportunity to present exciting new ideas on how IMA can better engage young professionals who will become the leaders of tomorrow.
The professionals selected also had the opportunity to meet those chosen for next year's YPLE, who will attend Global Board and committee meetings in Phoenix on February 18-19, 2022.
Wore Giotta, CAE, IMA director, community relations, explained, "This program offers participants the unique opportunity to attend the Board and committee meetings, meet IMA staff and volunteer leaders, contribute ideas, and gain valuable leadership experience. Our participants were selected from a large group of applicants, and each has demonstrated incredible leadership in their young careers. All the Board members and staff were impressed by these professionals' passion and commitment, and we look forward to their continued involvement in IMA."
The five young professionals selected in 2020 were:
Milana Erlikh, CMA (from Kazakhstan), reporting and budgeting manager at Afes Kazakhstan. Said Milana of the experience, "Participating in the YPLE gave me the amazing opportunity to work with IMA on a research project about climate risk. I tried my skills out and uncovered one I didn't even know I had. I also really appreciate the Board buddy program, which has helped me create a personal development plan with clear goals to achieve."
Tae Hyoung Kim, CMA, CPA (from Korea), transfer pricing professional at Yoon & Yang and secretary of IMA's Korea Chapter. Noted Tae Hyoung, "I very much enjoyed my experience in the YPLE program, including working with my peers and engaging in frequent communication with my Board buddy about professional and academic advice. I'm also so thankful for the support I received from my local chapter in Korea for this opportunity."
Charles Taylor, CMA, CSCA (from the U.S.), finance systems manager at Amkor Technology, IMA Technology Solutions & Practices Committee member. Said Charles, "Learning about the numerous ways I can volunteer with IMA was incredibly valuable, as was meeting IMA leadership and receiving one-on-one mentorship, which I know will pay great dividends in the future."
Anum Zahra, CMA (from Pakistan), Ph.D. candidate and graduate research assistant at Taylor's University in Malaysia. Anum noted that the most meaningful aspect of the experience was networking and "getting connected to some amazing people from different parts of the world." She also offered the following inspirational quote: "The young have the greatest stake in the future of our planet. It's time to hear what they have to say."
Helen Zhang, CMA (from China/U.S.), financial analyst at Precision Castparts Corp. and member of IMA's Las Vegas Chapter. Helen has enjoyed seeing how "collaborating with people from diverse backgrounds creates amazing results." She also felt the experience gave her greater understanding of the saying "to lead is to serve."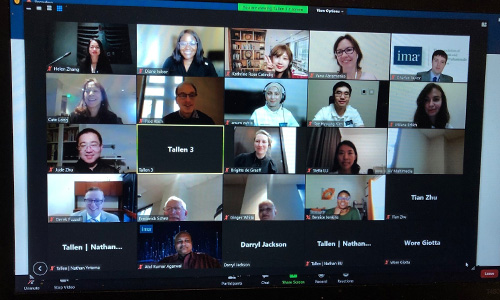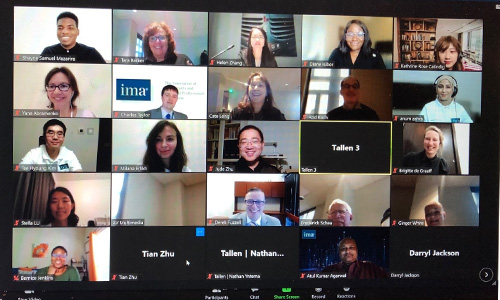 Screenshots from the VLC Zoom call.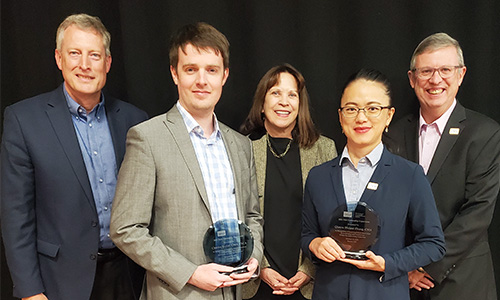 In-person attendees Charles Taylor and Helen Zhang, with [l. to r.]
IMA Chair Steve McNally, VLC Chair Cate Long, and IMA President and CEO Jeff Thomson.
Visit the IMA website to learn more about the Young Professional Leadership Experience.