Change username form. Insert an info and press enter to submit, or press escape to close.
Create a new account form. Press escape to close.
Validate mail form. Press escape to close.
Lost password form. Insert an info and press enter to submit, or press escape to close.
Confirm address message dialog. Press escape to close.
IMA's "CMAs making a difference" series spotlights valued members of the CMA® (Certified Management Accountant) community who are making a difference to their organization, to the profession, and to their world. This issue's featured CMA is: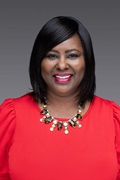 Company:
Columbus Regional Airport Authority
Title:
Senior Manager, Procurement & Business Diversity
When and why did you become a CMA?

I became a CMA in 2015 and as a finance professional, I found that the CMA was the perfect certification to obtain to display the various disciplines and components that make up the finance world. It's focused enough to be valuable to anyone in the finance and accounting arena but varied enough that it can also translate to other professions as well. Although I'm no longer in finance, I use the skills from finance and the CMA on a regular basis.

In what ways does your work as a CMA "make a difference" to your organization—specifically, to the people you work with, the clients/customers you serve, the organization's bottom line, etc.?

My CMA makes a difference in my organization because I have used and continue to use my strategic and analytical skills in every role I've ever had. As a CMA, I understand the importance of data and how to analyze and use it to tell a story. For example, when I became the senior manager of procurement & business diversity, the data told a story that illuminated to the organization that we had a lot of work to do around spend with small and/or minority-owned firms. As a result of utilizing the data, we increased our spend with these firms by 21% from 2018 to 2019. Increasing our utilization of these firms helps the local community and adds value to our organization. As a CMA, I understand that "what gets measured, gets managed" so I fully expect us to keep growing and increasing in this area.

Please describe how you have been able to contribute to "the greater good" of your community, society, or the profession as a CMA.

In my current position, I play a huge role in the greater good of the community by ensuring that my organization creates a level playing field for all small and/or minority-owned firms to do work with the Columbus Regional Airport Authority. Small business comprises more than 95% of all U.S. businesses, so to help a small business is to help and support the local community, the region, and the economy as a whole.

Complete this sentence: I make a difference as a CMA because …

I am an example of what is possible when you enter a profession or an arena and don't see very many people who look like you and you go for it anyway. As stated by the great Nelson Mandela, "Courage is not the absence of fear, but the triumph over it. The brave man is not he who does not feel afraid, but he who conquers that fear."

What advice would you give to someone looking for a career/job in accounting or finance where they can make a difference?

I would suggest that every person look for the intersection of where accounting/finance joins with their passion and purpose to help others. We often perceive accounting and finance in the strictest sense of closing the books, financial statements, and audits, but I challenge everyone to think about how you can utilize those same skills in various ways to help your community and your organization. You may be surprised at where the journey takes you.

Special note: Karmin was honored last month as an Outstanding Diversity Champion by Columbus Business First, in recognition of her efforts at leading the Columbus Regional Airport Authority's business diversity efforts and ensuring that small, minority, and women-owned businesses have maximum opportunity to provide goods and services for the organization.

Are you a CMA making a difference? Let us know! Please reach out to ioneditor@imanet.org and maybe we'll feature you in an upcoming issue.