Change username form. Insert an info and press enter to submit, or press escape to close.
Create a new account form. Press escape to close.
Validate mail form. Press escape to close.
Lost password form. Insert an info and press enter to submit, or press escape to close.
Confirm address message dialog. Press escape to close.
IMA® (Institute of Management Accountants) recently hosted a successful 2020 Virtual AsiaPac Conference, "Empowering Finance and Accounting Professionals." The event, held on October 17, attracted more than 650 participants from 38 countries, who heard presentations from prominent industry and academic experts.
The event featured world-class speakers from around the globe, including senior accounting and finance leaders from the U.S., Singapore, Philippines, Japan, and Australia. They provided attendees with insights covering topics such as the challenges the profession is facing today and in the future, and how data is used to tell strategic stories to inform business decisions. The event was complimentary for all and offered 3.5 continuing professional education (CPE) credits.
"This conference is an integral part of our region's initiatives to support the advancement of the accounting and finance profession. We are helping to bridge the skills gap by connecting professionals with prominent industry leaders with the insights and analyses that will empower them to thrive and take on the future with confidence," said Josh Heniro, Ph.D., IMA senior director, Southeast Asia & Australasia.
The event began with a keynote presentation by Jeff Thomson, CMA, CSCA, CAE, IMA president and CEO, who spoke about "The DNA of the Tomorrow CFO." Thomson discussed how maintaining profitability amid the COVID-19 pandemic, retaining key talent while containing costs, integrating new technology across the organization, and setting forward-looking strategic priorities are just some of the complex challenges CFOs are facing. He shared helpful insights for existing CFOs who must evolve to meet these new challenges.
Next came a panel discussion, "Finance & Accounting: The Challenges and Opportunities Ahead," moderated by Jim Gurowka, CAE, IMA senior vice president. Distinguished global and AsiaPac leaders addressed how COVID-19, geopolitical tensions, and other hot-button issues are impacting business operations and the role of management accountants. The panel also discussed new strategies and best practices for identifying new risks and opportunities and building value in uncertain times. Panelists included:
Trinh Duc Vinh, Deputy Director, Accounting & Auditing Supervisory Department, Ministry of Finance, Vietnam
Tony Kam, U.S. CMA, Vice President, Corporate Development, M&A (APAC and Middle East), Cognizant
Angeline Chua, Chief Financial Officer and Chief Operating Officer, IBM ASEAN
Junko Watanabe, U.S. CPA, Board Member and Partner, Deloitte Asia Pacific and Deloitte Tohmatsu Japan
Maria Victoria C. Espano, CMA, CPA, Chairperson and CEO, Punongbayan & Araullo (P&A Grant Thornton)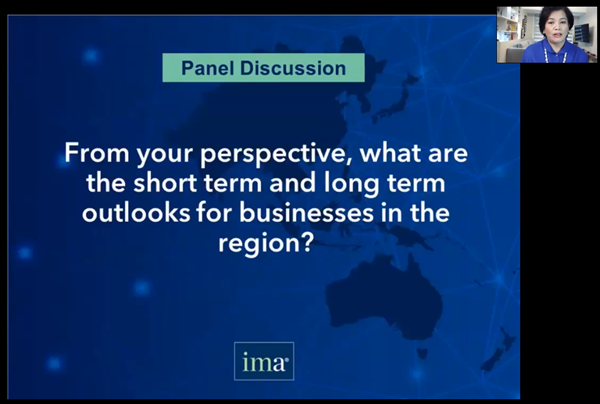 (Above) Maria Victoria C. Espano spoke at the panel discussion.

After the panel discussion, Nina Michels-Kim, U.S. CMA, CSCA, IMA director of partnerships, Japan and Korea, provided an introduction of several IMA chapters in the region. Michels-Kim recognized chapter board members from Australia, New Zealand, Korea, Philippines, and Singapore. Each chapter provided details about upcoming activities and contact information for cross-chapter collaboration.
Robert Chen, partner, Exec I Comm, next led a soft-skills segment on "Strategic Storytelling with Data," which covered best practices for synthesizing and delivering complex information in a persuasive and engaging manner. His talk was followed by closing remarks from Josh Heniro. Heniro introduced chapter board members from Taipei, Tokyo, Vietnam, and Western Japan, who provided details of these chapters' upcoming activities.
The event concluded with three breakout sessions:
"Leveraging Data Analytics to Transform FP&A," with speaker Keyur Shah, Senior Finance Director, FP&A, COE, APAC, Johnson & Johnson
"Educating for Empowerment in Industry 4.0," with speaker Gillian Vesty, Ph.D., Associate Professor, School of Accounting, Information Systems, and Supply Chain, College of Business and Law, RMIT University, Australia
"Strategic Transfer Pricing in Challenging Times," with speaker Tae Hyoung Kim, U.S. CMA, U.S. CPA, EA, Tax Practice Group Associate, International Tax & Transfer Pricing, Yoon & Yang LLC, Korea
For information on upcoming and future events, please visit: https://bit.ly/34zl7Sk.