Change username form. Insert an info and press enter to submit, or press escape to close.
Create a new account form. Press escape to close.
Validate mail form. Press escape to close.
Lost password form. Insert an info and press enter to submit, or press escape to close.
Confirm address message dialog. Press escape to close.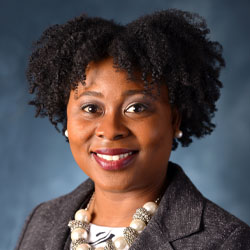 IMA's Diversity & Inclusion (D&I) webpage now features another profile of an inspiring member: Bernice Jenkins, CMA, CPA, a member of the IMA® (Institute of Management Accountants) Global Board of Directors and senior accountant, Blue Cross Blue Shield of Alabama. Bernice's story is found under the "Real Life Stories" section at the bottom of the webpage.
Bernice was born and raised in Montgomery, Ala., birthplace of the U.S. civil rights movement. Recalling her past, she says, "My parents grew up under Jim Crow laws in a segregated education system… and their personal experiences have certainly shaped the convictions in my heart and my views on diversity, inclusion, and equity. There are so many facets of diversity that will shift based on different regions of the world, so we need to look beyond a 'one size fits all' global strategy."
Noted Linda Devonish-Mills, CMA, CPA CAE, IMA director of diversity and inclusion, "It's a pleasure to add Bernice's voice to our growing chorus of D&I stories. She has a rich appreciation for reaching out to underserved and marginalized communities on a truly global scale. Her passion for diversity initiatives and helping others clearly shows through in everything she does."
"Real Life Stories" features profiles of members sharing their background, interests, and personal journeys in both life and work. Other featured profiles have included IMA Global board members Derek Fuzzell, CMA, CSCA, CPA; and Caleb Yan, CMA. Others will be added on a regular basis.
IMA created its Diversity & Inclusion webpage in September 2019 as part of its ongoing commitment to the principles and practices of diversity and inclusion. The page describes IMA's position and commitment to D&I, IMA's D&I origin story and global reach, and resources for IMA members and professionals, students, faculty members, volunteers, and partners. The page is the result of a collaborative effort between volunteers on IMA's D&I Committee and IMA staff.
The D&I webpage also features a Trends section, which highlights news stories that discuss or impact the practice of D&I, and a Diversity & Inclusion Jump-Start Kit, a free resource to help individuals and businesses incorporate inclusivity and diversity into their organizations. Created by IMA's D&I Committee and supported by IMA staff, the nine-page toolkit features best practices and a continuum to assess a company's current efforts in D&I; key questions to ask before embarking on a D&I initiative; rules of engagement for D&I initiatives; and KPIs and metrics that can be used to measure D&I efforts.