Change username form. Insert an info and press enter to submit, or press escape to close.
Create a new account form. Press escape to close.
Validate mail form. Press escape to close.
Lost password form. Insert an info and press enter to submit, or press escape to close.
Confirm address message dialog. Press escape to close.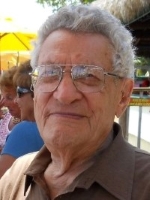 Milton Zipper, an IMA® (Institute of Management Accountants) member for more than 60 years and a prominent member of IMA's Long Island Chapter, passed away at his home in Florida on July 22. He was 102.
Born in Oyster Bay, N.Y., Milton joined the National Association of Accountants, known today as IMA, in 1952 and six years later, became president of the Long Island Chapter. Through the years, he was very active in the chapter and in 1988, he made a proposal at the Past President's meeting: to honor a local financial executive for their achievements on Long Island. From that initial idea came the development of the Financial Executive of the Year Award, first bestowed in 1989. Soon after that first award, it was renamed the Milton Zipper Financial Executive of the Year and for 30 years, it has recognized the most prominent accountants born and raised on Long Island. The winner is selected by a committee of past presidents of the Long Island Chapter.
Milton enjoyed a successful and international career as an accountant. In 1941, before the U.S. entered World War II, he answered an ad for a construction job with Johnson, Drake, and Piper Inc., a construction firm that did contract work for the military. In this role, he traveled to Brazil, South Africa, Massawa, and Eritrea. In 1945, he took a two-year contract with Price Waterhouse that saw him become a chief accountant at the company offices in Caracas, Venezuela. He went on to work not only in Venezuela, but also in Panama, Colombia, Brazil, Argentina, and Guatemala. In 1949, he started his own international accounting firm in Oyster Bay, Milton Zipper, CPA.
Along with accounting, Milton had a love of horticulture and according to his obituary published in Newsday, "His love of exotic plants and animals led to the construction of a huge private tropical greenhouse filled with songbirds surrounding the backyard pool at his home in Lattingtown [N.Y.]."
In that obituary, his daughter, Lori Hentrich, perhaps summed up Milton's life the best: "My father was global way before the term global was popular. He was so interested in new things, new people, new ventures, that he never thought about fear, never let fear control his life. He always said, 'You have to take a risk. It if fails, it fails. If you fail, you fail. But take the risk.'"
Milton is survived by Hentrich and her husband, Arthur; daughter Carol Towne and her husband, Richard; and Towne's daughter, Sherilyn. Predeceasing Milton were his wife, Bernice, who died in February 2001, and daughter Devie Kelsey, the twin of Hentrich, in 2007.