Change username form. Insert an info and press enter to submit, or press escape to close.
Create a new account form. Press escape to close.
Validate mail form. Press escape to close.
Lost password form. Insert an info and press enter to submit, or press escape to close.
Confirm address message dialog. Press escape to close.
IMA® (Institute of Management Accountants) is sad to announce that James C. ("Jimmie") Smith, CPA, a committed volunteer leader and IMA member for 45 years, passed away on November 3 at the age of 71.
Jimmie was an avid supporter of IMA, serving on the Global Board of Directors, as president of three IMA chapters and the Texas Regional Council, a member of the Diversity and Inclusion Committee, and as chair of the IMA Member Relations Committee, among other roles. Among his many contributions to the association, he co-developed IMA's Campus Influencers program, which has reached thousands of U.S. college students since its founding in 2016. Jimmie personally spoke at many college campuses across the U.S. and was involved in numerous other student initiatives. In 2013, Jimmie received IMA's Exemplary Volunteer Award and at IMA's Annual Conference & Expo in 2017, he received the Distinguished Member Award for his dedication and service to the organization.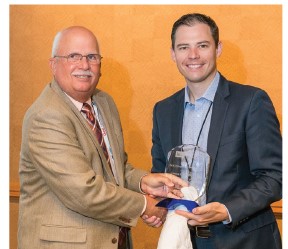 Jimmie Smith (l.) receiving the Distinguished Member Award
from then-IMA Chair Ben Mulling.
Commenting on Jimmie's passing, members of the Global Board expressed their thoughts on myIMA Network, including:
"Words cannot really describe the impact that Jimmie had on so many lives. He would do anything for anyone – and then some. With his positive spirit, he wanted to make a difference – and he did every day." – Joseph Vincent, CMA, CSCA
"Jimmie was an inspiration to me and to countless other members and students. He was always someone who stepped up to the plate and volunteered to help out when no one else would." – Brad Monterio
"Three things come to mind when I think about what Jimmie taught me: (1) Be humble. Be kind; (2) Remember where you came from – it's the core fundamental of making you who you are: special; (3) Always smile." – Ashley Gibson, CMA, CSCA, CPA
"Jimmie was as genuine and unique as they come, and he touched so many lives. While outwardly humble, he possessed a strength of character that could withstand the most challenging of situations." – Bud Kulesza, CMA, CFM
"From our lively discussions to my fondest memories of the perfect host at the Texas Annual Conference, where he drove hundreds of miles across the state to rally for students, Jimmie was the epitome of a true servant leader and an inspiration to us all." – Alex Eng, CMA, CFM, CPA
Jimmie was born in Llano, Texas, where he attended Llano schools and graduated with the class of 1967. In high school, he participated in track and field, football, basketball, and baseball, as well as on several academic teams.
After leaving Llano, Jimmie attended the University of Texas and later earned a bachelor's degree in accounting from Texas Tech University and his MBA from the University of Houston at Clear Lake.
Jimmie's career in accounting took his family to Houston; Lexington, Ky.; and Dallas. He retired from OxyChem in 2013 as senior director of finance after a career spanning 43 years.
Jimmie leaves behind Sue, his wife of 49 years; daughter Alyssa; son and daughter-in-law Jeremy and Nicki; son and daughter-in-law Craig and Diana; sister Priscilla; and five grandchildren.
In lieu of flowers, contributions in Jimmie's name can be made to: Wayne & Theresa Allen Endowment Fund; c/o First Baptist Church at The Fields; 1401 Carrollton Parkway; Carrollton, Texas 75010.