Change username form. Insert an info and press enter to submit, or press escape to close.
Create a new account form. Press escape to close.
Validate mail form. Press escape to close.
Lost password form. Insert an info and press enter to submit, or press escape to close.
Confirm address message dialog. Press escape to close.
As a global association with members from around the world, it seemed only fitting that the last Global Board of Directors meeting of IMA's 100th Anniversary year be held on a global stage. In October, members of the Global Board, the ICMA Board of Regents, and the Committee on Ethics gathered in Amsterdam for their fall meetings. Senior IMA® (Institute of Management Accountants) staff and volunteer leaders also participated in several other events in Europe and then others, including Jeff Thomson, CMA, CSCA, CAE, IMA president and CEO, headed to Malaysia and China to further extend the association's international relationships.

Networking in Europe
In addition to the Board and Ethics Committee meetings, IMA hosted several events in Europe that provided networking and educational opportunities to students and professionals:
Thomson participated in a CFO panel discussion at "The Future of Finance Co-Driving the Business" event in Amsterdam. At this conference, EY was recognized as IMA's Annual Corporate Recognition Award Winner. Other speaking events in Amsterdam delivered by Thomson included "Dealing with Ethical Dilemmas with Confidence" (in conjunction with Netherlands-based partner NBA) and "The Future of Corporate Reporting" (delivered at ABN AMRO with invited guests).
IMA hosted a chapter event at Vrije Universiteit Amsterdam, featuring speakers Steve McNally, CMA, CPA, Global Board member; and Ginger White, CMA, CSCA, IMA Chair-Emeritus.
Christian Cuzick, CMA, IMA Global Board Chair, spoke at IMA's Management Accounting Conference, held at the offices of Johnson & Johnson in Zug, Switzerland.
IMA hosted its popular Women's Accounting Leadership Conference in Munich, where men and women gathered to gain perspectives from accomplished female leaders on work/life balance, overcoming challenges, meaningful career paths, and more. The event was moderated by IMA Board member Ashley Gibson, CMA, CSCA, CPA, and included panelists Rosemary Amato, CMA, CPA, CISA; Doreen Remmen, CMA, CSCA, CAE; Pat Stefanczyk, CAE; and Joanne Hunger.
In Moscow, IMA hosted its first-ever Student Leadership Conference at the University of Moscow under the Government of the Russian Federation. The Moscow Chapter also hosted a special chapter event.
Below, check out a dynamic video showcasing some of these events.

Talking Trust in Malaysia
Following the meetings in Amsterdam, Thomson, accompanied by Jim Piechowski, CAE, IMA senior director of international operations, traveled to Malaysia to meet with potential partners and participate in a panel discussion at the Malaysian Institute of Accountants (MIA) Conference.
The conference, themed "Trust and Sustainability in the Digital Economy," attracted 3,200 delegates from more than 30 countries and 70 speakers. During his panel discussion, titled "Addressing the Trust Deficit, Gaining Stakeholders' Confidence," Thomson addressed how companies can gain trust in a climate of prevailing skepticism and how the finance function can help in building that trust.
Pictured below are Thomson and fellow panelists [from l. to r.]: Chari TVT, business consultant, GCFO Axiata; Anna Bleazard, director, Southeast Asia Forensic Investigations and Disputes, Deloitte; Dayaniwas Sharma, Central Council member, Institute of Chartered Accountants of India (ICAI); and Thomson.
During his visit to the region, Thomson also met with several large international companies in Malaysia, including IBM Malaysia's finance and development teams. IMA recently conducted a COSO Internal Control Workshop for Petronas, Malaysia's fully integrated oil and gas multinational ranked among the largest corporations on the Fortune Global 500, as part of its support for developing the management accounting profession in Malaysia.
"IMA has enjoyed a long-standing relationship with MIA through IFAC, and we are pleased to support great events like this one, which truly advance the global accountancy profession," said Thomson. "It was great to meet with employers, professionals, students, associations, and training and advisory firms, which are all working together to build and maintain trust in a digital age."
New Office, Special Guest in China
Thomson and staff next traveled to China to first attend the 6th Management Accounting Summit in Beijing, which attracted more than 700 attendees. The event was a lively one, including a celebration of IMA's 100th Anniversary, and with opening remarks delivered by U.S. Ambassador to China Terry Branstad. At the conference, Thomson delivered his presentation on "The Future of the Accountant in a Digital Age."
Next, the team attended a Management Accounting Summit and a CMA event in Chengdu, home of the giant panda and known as "China's happiest city." Chengdu is also the site of IMA's fourth and newest office in China, joining Beijing, Shanghai, and Shenzhen.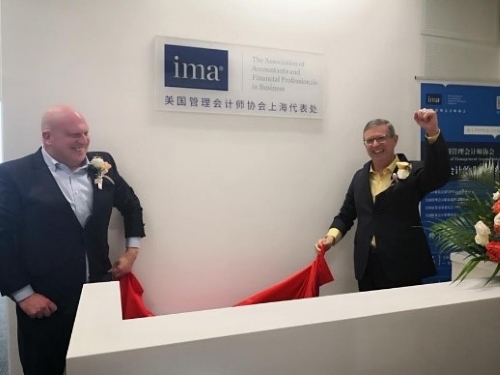 Piechowski (l.) and Thomson celebrate the opening of IMA's newest office in Chengdu.
Finally, Thomson met with the vice mayor of Shanghai, who oversees the Shanghai Financial Regulatory Bureau, and which has expressed strong support for the CMA program in advancing management accounting talent in China.
Remarked Thomson, "We were pleased to celebrate the opening of our fourth office in China and our new, larger office in Shanghai. It was also a great opportunity to attend our 6th Management Accounting Summit, which now attracts a large number of professionals from across the region, and to join with our colleagues and members in China to celebrate the 100th Anniversary of our great association. It was the perfect way to end this two-week long trip spanning two continents and reaching thousands of professionals and students."