Change username form. Insert an info and press enter to submit, or press escape to close.
Create a new account form. Press escape to close.
Validate mail form. Press escape to close.
Lost password form. Insert an info and press enter to submit, or press escape to close.
Confirm address message dialog. Press escape to close.
IMA's Conference of the century just wrapped up in San Diego, delivering an outstanding line-up of inspiring, educational, and entertaining speakers and special events.
More than 1,000 individuals from around the world gathered to celebrate the association's 100th Anniversary at the Sheraton San Diego Hotel & Marina on June 15-19. Featured speakers included:
Mike Walsh, futurist, best-selling author, and CEO of Tomorrow, who painted a vivid portrait of how tomorrow's leaders can upgrade their capabilities to survive and thrive in an age of accelerating technology.
Matthew Luhn, a 20-year Pixar animator, story artist, and author, who spoke about how to use the power of storytelling to bridge the gap between business and heart.
Amy Vetter, CPA, yogi, technologist, author, and Inc.com contributor, who taught attendees how to develop the soft skills needed to create long-lasting human connections.
Joe Wolk, CPA, executive vice president and CFO of Johnson & Johnson, who, in an inspirational session moderated by IMA Chair-Elect Christian Cuzick, CMA, discussed the role of today's CFO.
Other highlights included a panel discussion about the future of the profession [pictured below] featuring Tom Hood, CPA.CITP, president and CEO, Maryland Association of CPAs and The Business Learning Institute; Paul McDonald, senior executive director, Robert Half; and Sue Hohenleitner, CMA, CPA, vice president of finance, J&J Innovation at Johnson & Johnson. Comedian Jay Leno kicked off the event.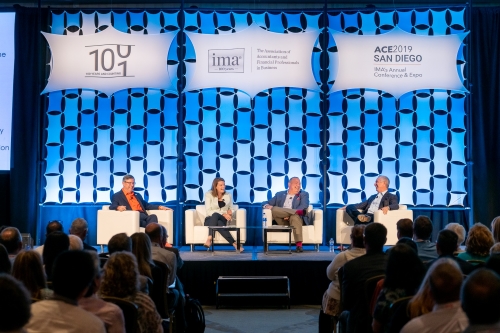 Fun yet informative Future of the Profession panel discussion.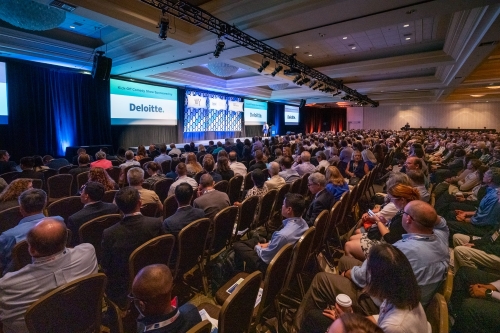 Attendees packed the general session.

Attendees also gathered for several networking events, including an exciting and memorable Centennial Celebration, where members and guests enjoyed entertainment, food, and fun from around the world in honor of IMA's thriving global community.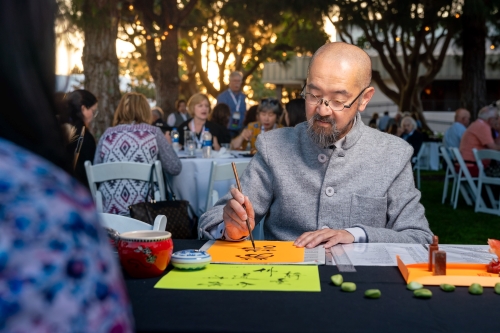 Around the world theme at our Centennial Celebration to represent our members all around the globe.

"We hope that all attendees enjoyed this event, which not only provided more than 75 educational sessions but also aimed to honor IMA's milestone anniversary," said LeighAnn Tobia, CMP, IMA conference and events manager. "We wish to thank all of our sponsors, including our Diamond-level sponsor Deloitte, for helping make this Conference such a tremendous success."
IMA's next Annual Conference, ACE2020, will be held at the Atlanta Marriott Marquis in Atlanta on June 20-24, 2020. Watch your email for a call for sessions and registration details when they become available.