Change username form. Insert an info and press enter to submit, or press escape to close.
Create a new account form. Press escape to close.
Validate mail form. Press escape to close.
Lost password form. Insert an info and press enter to submit, or press escape to close.
Confirm address message dialog. Press escape to close.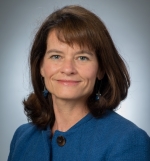 The ICMA® (Institute of Certified Management Accountants) Board of Regents, the body that oversees the CMA® (Certified Management Accountants) program, recently appointed Dana C. Riess, CMA, CFM, CPA, CPIM, CSCP, as its new chair for a two-year term expiring June 30, 2021.
Dana has more than 25 years of financial experience in the pharmaceutical and healthcare industries, specializing in international commercial and manufacturing operations. She currently is the managing partner of The Laminar Group, LLC. She began her career at Abbott Laboratories in 1992, after earning her master's degree in international management from the Thunderbird School of Global Management in Glendale, Ariz. She held a wide variety of positions at Abbott and AbbVie, including nine years living and working overseas in Puerto Rico, Switzerland, and Eastern Europe. As an outcome-focused finance executive with global expertise across the U.S., Europe, Latin America, and emerging markets, Dana leads financial functions for a variety of organizations, driving change and fueling profitability. She has been an IMA member since 1996, serving in a variety of roles for the Chicago Chapter and the Mid-America Council since 2011.
Five New Members
In addition to naming a new chair, ICMA also has appointed five new Regents to serve three-year terms effective July 1, 2019. The new Regents are:
Tara Lynn Bollinger, CMA, CPA – Tara Bollinger currently serves as a tax principal and consultant at Clark Schaefer Hackett (CSH), one of the top 100 public accounting firms in the U.S. She works out of the CSH office in Toledo, Ohio. Previously, she worked at William Vaughan Company, also a public accounting firm, as a consultant and accountant. She earned her BS in Business Administration from Bowling Green State University with specializations in accounting, human resource management, purchasing, and supply chain management; she earned her CMA in 2009. In addition to serving on the ICMA Board of Regents, she is secretary of the IMA Toledo Chapter as well as a board member for Agility Angels and the Erie Shores Council.
Noel C. Fairbanks, CMA – Noel Fairbanks has served in various roles at Johnson & Johnson for 17 years, beginning her career there in 2002 as part of the company's Financial Leadership Development Program (FLDP). Since 2018, she has been the senior director, worldwide consumer finance, at Johnson & Johnson-Consumer in New Brunswick, N.J. She earned her MBA in General Management from Cornell University and her BS and BA from Hartwick College. She is a CMA and is certified in Six Sigma Process Excellence and LEAN Process Excellence.
James C. Haefner, CMA, CFM, CPA, CIA – James Haefner recently retired as senior vice president and assistant treasurer of Excellus Health Plan, Inc., based in Rochester, N.Y., where he had worked since 2008; in his retirement, he owns a CPA firm and serves as a consultant. Previously, he worked in various finance-related roles at manufacturing and other concerns. He received his BS in Accounting from Clarkson College of Technology and his MA in Applied Economics from San Francisco State University. He earned his CMA in 1990 and was the recipient of the Gold Medal for achieving the highest score on the June 1989 exam.
Harrison Okyere Nyarko, CMA, CIA, CISA – Harrison Okyere Nyarko works for Promasidor, a leading manufacturer of food and beverages in Africa, where he has been the finance and accounts manager for the company's Ghana operations since 2015. He began his finance career in SCG Audits, Accra, Ghana in 2006 and later served in senior finance roles in the oil and gas and energy sectors. He earned his MBA from the University of South Wales, UK, and is a CMA as well as a CIA (Certified Internal Auditor) and CISA (Certified Information Systems Auditor). He is a member of the American Economic Association.
David W. Skora, CMA, CFM, CSCA – David Skora is the vice president, finance and administration, at Fristam Pumps USA in Middleton, Wis., where he has worked since 1986. He began his career as an accounting manager and a cost analyst at Rayovac Corporation. He has been an IMA member since 1987, serving as president of the Madison Chapter and as the president, treasurer, and regional director of the Mid-America Council. He served terms on the IMA Global Board of Directors from 2015 through 2019 and was chair of the ACE2019 program committee. He graduated from the University of Wisconsin-Eau Claire with his BBA in finance.
The major responsibility of the Board of Regents is to oversee the CMA program. Among its primary duties, the Board develops the overall strategy for the certification program, sets the requirements and policies for certification, reviews and revises exam questions as needed, oversees the administration of the exam, establishes the passing standards, and periodically reviews the content specifications for the exam and revises these specifications as appropriate.
For further information about these appointments or the activities of the Board of Regents, please contact Dennis Whitney, CMA, CAE, ICMA senior vice president, certifications, exams and content integration, at dwhitney@imanet.org.