Change username form. Insert an info and press enter to submit, or press escape to close.
Create a new account form. Press escape to close.
Validate mail form. Press escape to close.
Lost password form. Insert an info and press enter to submit, or press escape to close.
Confirm address message dialog. Press escape to close.
Incoming IMA Chair-Elect and current ICMA Board of Regents Chair Paul Juras, Ph.D., CMA, CPA, recently joined the IMA
®
(Institute of Management Accountants) staff and volunteer team in India, spending eight days there to strengthen ties with approved review course partners, universities, and corporations. Accompanying Juras were Jim Piechowski, CAE, IMA director of international operations; Fenil Vadakken, country head, IMA India; and Lata Murli, business relations manager, IMA India.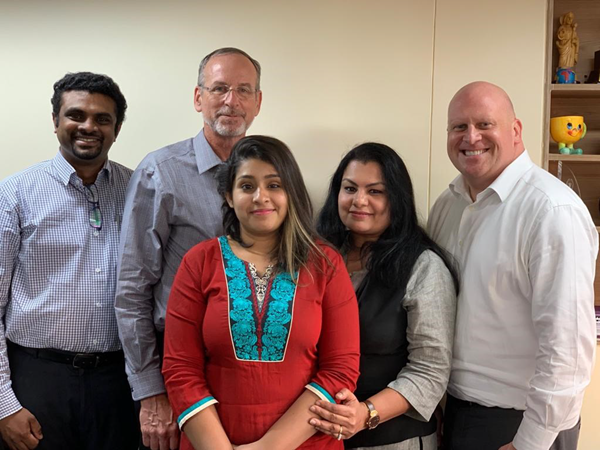 Paul Juras along with members of the IMA India team (from l. to r.): Fenil Vadakken; Juras; Jyothsna (Jo) Rego, Operations
and Member Relations Specialist; Lata Murli; and Jim Piechowski.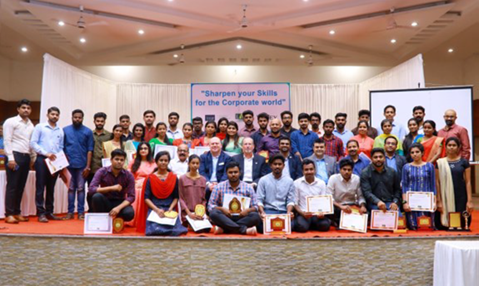 Students and candidates at Logic School of Management learned how to "Sharpen Your Skills for
the Corporate World" with a presentation by Juras.
Course Providers and Universities

Highlights of the trip included presentations hosted by long-standing IMA partners in India, such as Logic School of Management, where Juras delivered a presentation titled "The Future of Finance – CMA 2020," attended by approximately 400 CMA candidates, primarily students. Juras and the team also shared the same presentation to more than 100 students and professionals at an event sponsored by Miles Education, one of IMA's platinum partners.
Part of the academic outreach included attendance at an international conference held at Christ University in Bangalore. There, Juras participated in a panel discussion on "Changing Business Landscape: Harnessing Digitization and High-Touch," and conducted sessions for CMA candidates and faculty at the university. At the conference, which attracted more than 1,700 attendees, Piechowski also spoke on a panel about how educational institutions should reinvent their curricula to respond to digitization and changes in technology in the management accounting profession. Other university visits included Loyola College, St. Joseph College of Commerce, and Sahradaya College of Advanced Studies, among others.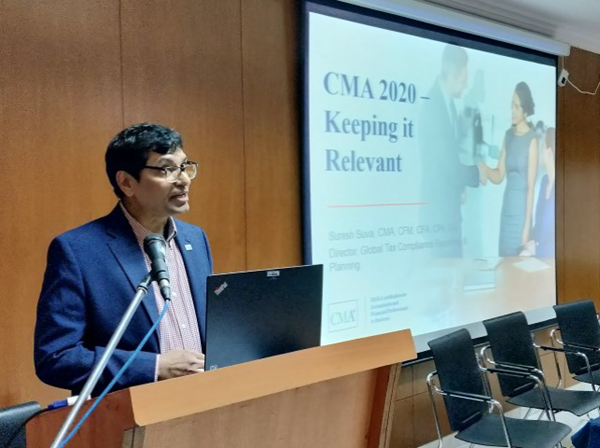 IMA staff member Suresh Suva delivers a presentation on CMA 2020 at Jain University in Bangalore.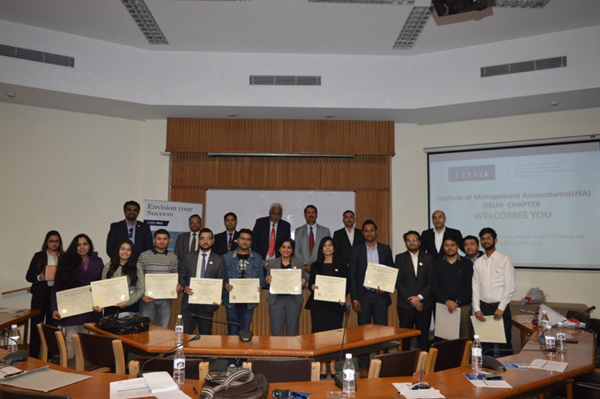 At a chapter meeting in Delhi, new CMAs proudly display their certificates.
Student Leadership Conference

A centerpiece of the trip was the first-ever Student Leadership Conference in India, which attracted more than 200 students and faculty. The conference highlighted major topics creating ripples in the accounting and finance field, such as the rising prominence of cryptocurrencies and blockchain. Juras spoke about the future of finance, and panelists from prominent organizations shared insights to help students as they begin their career journeys.
Commented Juras of this experience, "There's no question that my recent visit to India was one of my most meaningful experiences as an IMA volunteer leader. The interactions with the students were extremely gratifying. Seeing their energy level at the student conference, along with the enthusiasm demonstrated by the students at the numerous universities I visited, tells me that IMA is truly able to make a difference in their lives."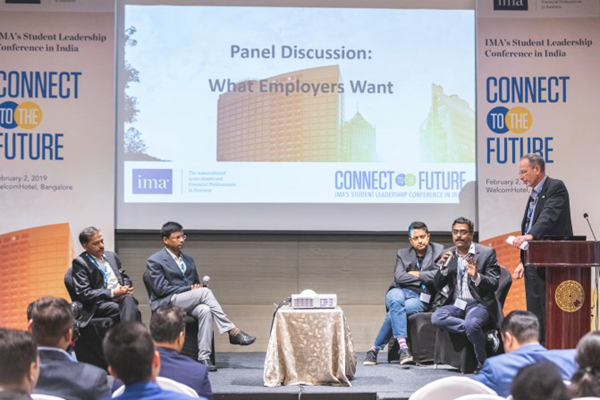 At a Student Leadership Conference session moderated by Juras, panelists discuss what employers want.
Corporate Outreach

The trip to India also featured numerous corporate visits, including to Wipro and Amazon, where Juras presented on "Data Analytics: A Tool for Creating Competitive Advantage." The Wipro visit was attended by more than 200 employees of the company. Juras also spoke about "Automation and How It Drives the Future of Finance Professionals" at a well-attended corporate presentation held at KPMG.
Noted Juras, "I was greatly encouraged by the reception that we received during our corporate visits. The outcome of these visits demonstrated a clear alignment between the needs of the corporate community and the thought leadership content and other resources of IMA. This region, and India specifically, is critically important to IMA's continued growth and impact."
For more information on IMA's activities in India, please reach out to
imaindia@imanet.org
.