Change username form. Insert an info and press enter to submit, or press escape to close.
Create a new account form. Press escape to close.
Validate mail form. Press escape to close.
Lost password form. Insert an info and press enter to submit, or press escape to close.
Confirm address message dialog. Press escape to close.
Hundreds of students over the years have participated in one of IMA?s most popular competitions: the
Annual Student Case Competition
, which provides an opportunity for students to interpret, analyze, evaluate, synthesize, and communicate a solution to a management accounting problem.
The case for the 2019 competition has just been published in the August 2018 issue of
Strategic Finance
. The case, ?
Angie's Empanadas: Pricing Decisions for a Start-Up
,? was written by the late A. Craig Keller, CMA, Ph.D.; and Michael R. Hammond, CPA. For the case, students offer recommendations to a fictitious small business owner who is assessing whether she?s on track to meet her first-year profit goals and if she should accept an exciting new offer.
The highlight of every Student Case Competition occurs at the Annual Conference & Exposition (ACE) in June, when the four finalist teams present their case live before a panel of judges. The case competition is offered in the U.S. and, for the past eight years, to students in China. This year, the championship team from China was invited to Indianapolis to attend ACE, where they received their award (and recognition) in person.
?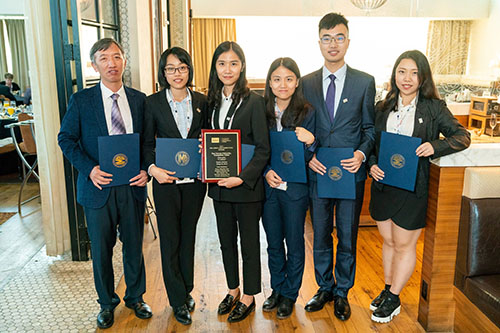 [From l. to r.]: Faculty Advisor Xiang Cai, Ph.D.; FengLian Ma; HuiYu Zou; JiaYi Tan; YuChao Peng; WeiYuan Fan
It was a thrilling experience for the team, which hailed from Sun Yat-sen University in Guangzhou, China. Said team leader HuiYu Zou in her narrative about the event, ?After six months and a 20-hour flight, we finally arrived in Indiana. We experienced so much during this journey, including a deep study of a case about a new industry and attending an international conference where we learned more about the importance of management accounting.?
Describing her team?s approach, Zou said, ?In this case competition, which was based on China?s specific national conditions and business environment, we gave a solution covering pricing strategy, marketing strategy, sales strategy, production strategy, and other specific corporate decisions. We hope that in the future, the Chinese competition can continue to use cases reflecting the development of Chinese enterprises.?
After recounting the team?s experience presenting their case and the networking experiences they were happy to be part of, Zou concluded, ?It was our great honor to represent China. We want to express gratitude for our teacher, Professor Cai, and for IMA for creating a platform for academic learning. We sincerely hope there will be more excellent Chinese teams in the future that can show themselves on the world stage and explore the exciting profession of management accounting.?
The deadline for the 2019 Student Case Competition is February 2, 2019. Please visit this link for an
application
.