Change username form. Insert an info and press enter to submit, or press escape to close.
Create a new account form. Press escape to close.
Validate mail form. Press escape to close.
Lost password form. Insert an info and press enter to submit, or press escape to close.
Confirm address message dialog. Press escape to close.
A panel discussion sponsored by IMA
®
(Institute of Management Accountants), ACCA (Association of Chartered Certified Accountants), and Temple University's Fox School of Business introduced students to how technology is transforming the work of accountants and auditors.
The discussion, titled "The Great Transformation," was held on September 24 on the Philadelphia campus of Temple, a member of IMA's Higher Education Endorsement Program. The panel, which attracted approximately 90 students, featured insights from three experienced professionals:
Brian Cassidy, audit senior manager, Deloitte & Touch LLP
Andrew Gambier, head of audit and assurance at ACCA
Giuseppe Venezia, CMA, Americas business controller, Essity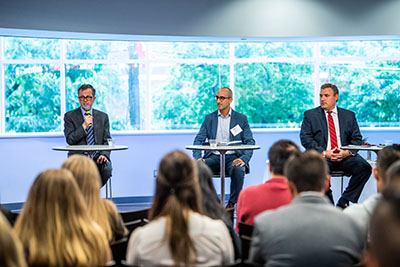 Panelists at the Temple event (from l. to r.): Gambier; Venezia; and Cassidy.
The panel was moderated by three Temple students, two of whom are members of the school's IMA student chapter. Also attending were numerous other IMA student chapter members, students from other accounting clubs, and members of IMA's local professional chapter. Chapter faculty advisor A.J. Kreimer, assistant professor of accounting and IMA Campus Advocate, helped to organize the event. Kreimer also is bringing a group of Temple students to the IMA Student Leadership Conference, being held in St. Louis on November 1-3.
Each of the speakers shared their experience on topics such as:
Changes they've witnessed in the accounting and auditing profession because of the advent of new technology
The degree to which accounting and auditing standards are keeping pace with changes to the profession
What skills accountants and auditors will need in the future to be successful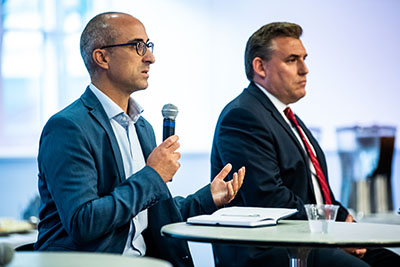 Venezia offers advice to students on how they can prepare for the future.
Said Venezia in his remarks, "Yes, there will be a loss of jobs to automation, but other, new jobs will come to the forefront as a result. Remember: Robots can't assess the impact of certain changes on people; they also can't make choices that take ethics into account. Be curious and flexible and keep up your passion for learning."
For more information, please visit the website of the
IMA Temple Student Chapter
.