Change username form. Insert an info and press enter to submit, or press escape to close.
Create a new account form. Press escape to close.
Validate mail form. Press escape to close.
Lost password form. Insert an info and press enter to submit, or press escape to close.
Confirm address message dialog. Press escape to close.
IMA® (Institute of Management Accountant) continues to expand its presence in Southeast Asia, with a recent visit by IMA president and CEO Jeff Thomson, CMA, CSCA, CAE, to The Philippines and Singapore. The six-day strategic trip included meetings with many prominent accounting authorities and organizations, corporations, educational institutions, and course providers.

The Philippines portion of the trip featured a historic signing of a new Memorandum of Understanding between IMA and the Professional Regulation Commission Board of Accountancy (BoA), which oversees more than 185,000 Filipino CPAs. The new MOU makes IMA the partner of choice for syllabi and curricula planning for the new management accounting track in all universities in The Philippines.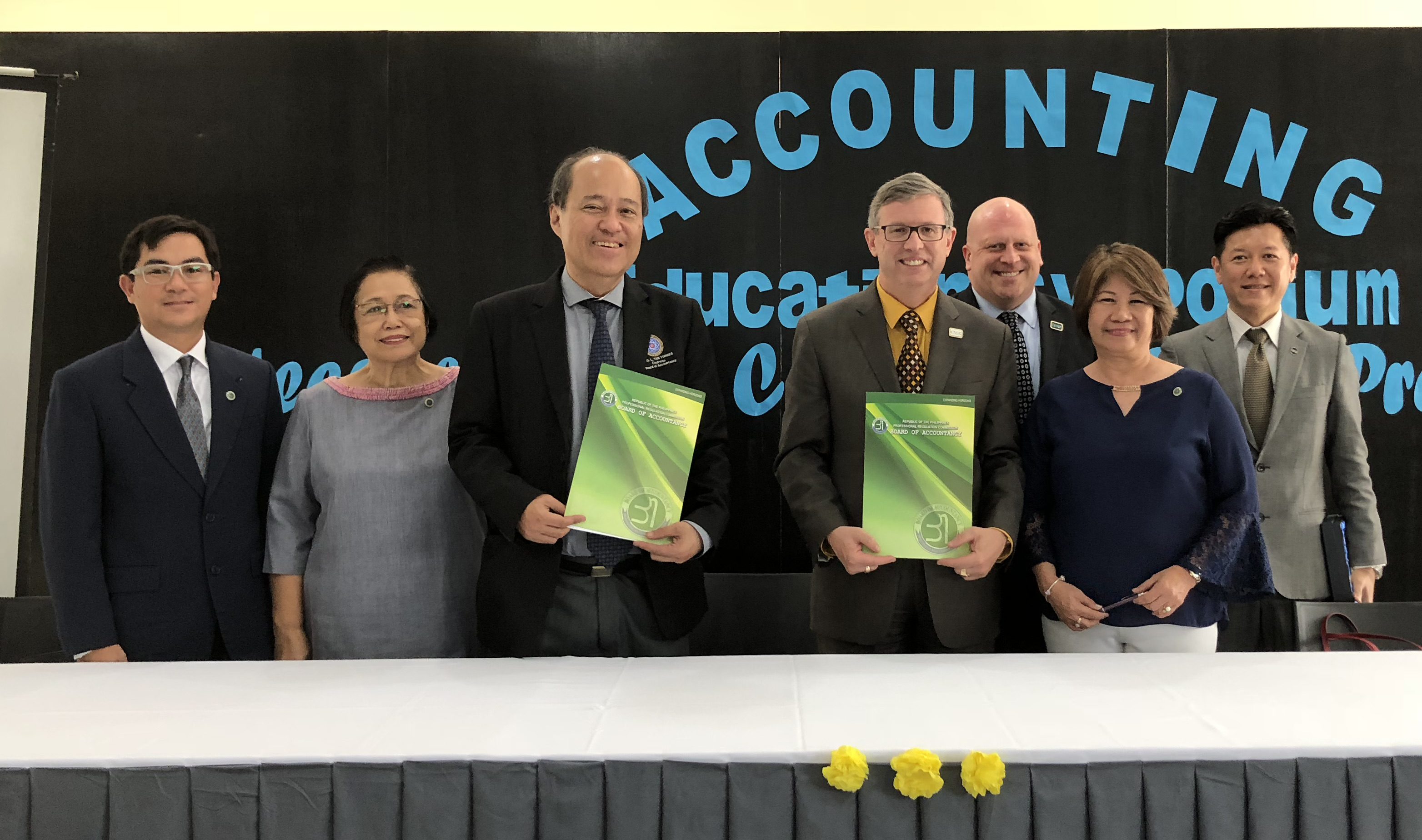 IMA and Board of Accountancy representatives sign historic Memorandum of Understanding (from l. to r.: Marko Romeo L. Fuentes, BoA member; Hon. Gloria T. Baysa, BoA vice chair; Joel L. Jan-Torres, BoA chair; Thomson; Jim Piechowski, IMA director of international operations; Thelma S. Ciudadano, BoA member; and Josh Heniro, IMA director of Southeast Asia operations.)

The signing event included a presentation by Thomson titled, "Becoming Future-Ready: It Starts With You," where he discussed the skills gap, what organizations are doing to address it, and how to become a "future-proof" leader in this age of technological disruption.

Thomson and the team also met with members of the Financial Executives of the Philippines (FINEX), the Securities and Exchange Commission Philippines, and various course providers. The Philippines leg of the trip concluded with the first-ever IMA member networking and CPE event in that country, where Thomson gave his inspiring talk, "The CFO Team: Extinct, or Distinct, in the Digital World?"


Jeff Thomson presented to a room full of finance and accounting directors at the American Chamber of Commerce, Singapore (from l. to r.: Lisa Liaw, financial controller, Singapore, Malaysia, Indonesia-American Express; Thomson; and Ann Yom Steel, executive director, American Chamber of Commerce).

In Singapore, the team met with many high-level executives and representatives from influential accounting organizations. Highlights included:
Thomson delivered his "CFO Team" presentation to members of the American Chamber of Commerce in Singapore, the leading international business association in that country.
Meeting with finance directors from Johnson & Johnson, which as a global corporation has long supported CMA® (Certified Management Accountant) certification among employees.
Meetings with accounting bodies, including the Institute of Singapore Chartered Accountants and the Singapore Accountancy Commission.
Thomson said, "This was a historic visit for our team, as the signing of the new MOU with the Board of Accountancy in The Philippines will allow for new opportunities for us in the region. We also made significant inroads with our relationships in Singapore, as we met with representatives from the American Chamber of Commerce and leading accounting bodies.

"This region of the world is a growing and increasingly important one for IMA as we fulfill our strategic mission to be an advocate for excellence in management accounting around the world."

For more information on IMA's activities in Southeast Asia, please contact Jolyn Teo (jolyn.teo@imanet.org) or Josh Heniro (jheniro@imanet.org).