Change username form. Insert an info and press enter to submit, or press escape to close.
Create a new account form. Press escape to close.
Validate mail form. Press escape to close.
Lost password form. Insert an info and press enter to submit, or press escape to close.
Confirm address message dialog. Press escape to close.
IMA
®
(Institute of Management Accountants) President and CEO Jeff Thomson, CMA, CSCA, CAE, last week hosted the second in his "Series for the Future," a live, interactive session during which he shared his global perspective on "future-proofing" the profession. You can view a copy of the recorded presentation
here
.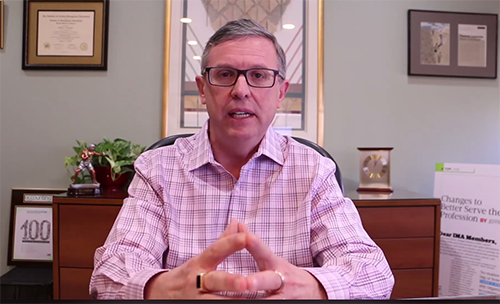 Click here to watch Jeff's latest "Series for the Future" presentation.
Jeff used his recent eight-day visit to India as a jumping off point for the discussion. Noting how India has a rapidly growing GDP and is currently the world's seventh-largest economy, Jeff explained how India is home to approximately 40% of the world's data scientists and is the leading exporter of IT services. In describing the risks of a heavy reliance on technology, Jeff cited a sobering statistic from the World Bank: that approximately 69% of today's jobs in India are threatened by automation.
Moving from a specific focus on India to more global trends, Jeff expressed his optimism for the opportunities that automation will open. He described how trends in automation have moved from manufacturing to service industries, including accounting, and how artificial intelligence (AI), machine learning, and robotic process automation (RPA) are changing the role of accountants. He emphasized the need to gain competencies in data science, data analytics, and critical thinking, noting the urgent need for the profession as a whole to become more agile and adaptable to change. "The very relevance of the profession is at stake," he said.
Throughout the live presentation, IMA members and other interested professionals were able to post questions and comments to Thomson, who answered their questions throughout the day. Thomson also offered a few tips in the session to help professionals prepare for the future:
https://youtu.be/NB0J3ddNg3A
To keep up with the latest IMA news, including information about this session and upcoming "Series for the Future" events, be sure to check IMA's
Facebook
,
Twitter
, and
LinkedIn
accounts.