Change username form. Insert an info and press enter to submit, or press escape to close.
Create a new account form. Press escape to close.
Validate mail form. Press escape to close.
Lost password form. Insert an info and press enter to submit, or press escape to close.
Confirm address message dialog. Press escape to close.
Six young professionals from diverse backgrounds attended IMA's Global Board of Directors and committee meetings in San Antonio this fall. They were selected as part of IMA's Young Professional Leadership Experience, an exclusive program that identifies and gives outstanding candidates who are under age 33 and have passed the CMA
®
(Certified Management Accountant) exam a unique opportunity to participate in high-level meetings and network with seasoned professionals.
During the three-day program, attendees experienced the inner workings of IMA's Global Board and gained perspective on the organization's strategic direction to meet member needs into the future. They had the opportunity to observe and actively participate in meetings and learn first-hand how the governance structure of a not-for-profit operates. Through a variety of networking events, they met with senior volunteer leaders and staff from IMA's U.S. and global regions.
Participants included: Zohaib Akhtar, CMA, CSCA, CIA; Izz Ghanaa Ansari, CMA; Luke S. Harris; Eric Jerome Mauer, CMA; Jayada Ravindra Samudra, CMA; and Jordan L. Savage, CMA, CPA, CFE.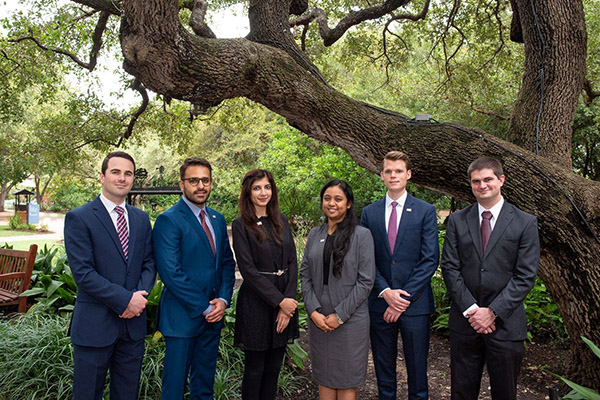 Pictured (from l. to r.): Jordan Savage; Zohaib Akhtar; Izz Ghanaa Ansari; Jayada Ravindra Samudra; Luke Harris; and Eric Jerome Mauer.
"This year's group of participants brought great energy and insights to our Board and committee meetings," said Patricia Stefanczyk, CAE, IMA vice president of governance and volunteer relations. "This unique program – which has grown over the years and has become increasingly competitive – gives selected members the opportunity to develop as future leaders both within IMA and their respective organizations. The six individuals who participated this year came away from the experience with lasting memories, valuable professional contacts, and even mentors."
IMA
®
(Institute of Management Accountants) also sponsors an
IMA Student Leadership Experience
for students enrolled in institutions endorsed under the IMA Higher Education Endorsement Program. In 2019, the program will be held in Orlando, Fla., on February 14-16. IMA's Volunteer Leader subcommittee is currently reviewing submissions and will select up to five winners. Winners will be announced by January 14, 2019.
And, it's never too early to begin planning for next year's program. IMA will be accepting nominations for next year's Young Professional Leadership Experience in August 2019. To apply, candidates will need to:
Watch "Follow the Leader," a webinar featuring former IMA Chair Ben Mulling, CMA, CPA.CITP, who joined IMA as a young professional and gained leadership experience that led him to his role as CFO at Tente Casters, Inc., and as Chair of IMA.
After watching the video, write a short essay (up to 250 words) defining what leadership means to you and how it will impact the success of your career.
Submit your essay, a résumé, a recommendation letter from your manager, and a completed online application.
For more information, please visit
Young Professional Leadership Experience
on the IMA website or contact Pat Stefanczyk at
pstefanczyk@imanet.org
.