Change username form. Insert an info and press enter to submit, or press escape to close.
Create a new account form. Press escape to close.
Validate mail form. Press escape to close.
Lost password form. Insert an info and press enter to submit, or press escape to close.
Confirm address message dialog. Press escape to close.
In mid-May, IMA
®
(Institute of Management Accountants) President and CEO, Jeff Thomson, CMA, CAE; and Director of International Operations, Jim Piechowski, CAE, were hosted by the IMA Middle East/India Regional Office and traveled to Dubai, United Arab Emirates (UAE), as well as to Riyadh and Jeddah, Kingdom of Saudi Arabia (KSA), to explore new growth opportunities and further business relationships within the Middle East.
During their week-long visit, Thomson and Piechowski began their trip in the city of Dubai, UAE. On May 15 - 16, 2017, IMA co-hosted a conference on emerging trends in accounting, technology, and leadership with the Dubai Airport Freezone Authority (DAFZA). The event featured regional and international experts who gathered to discuss a variety of topics such as digital finance transformation, block chain, Islamic and social finance, cognitive technologies, corporate governance, leadership, and the International Public Sector Accounting Standards. Conference attendees included leaders and key decision-makers from the private sector, government/semi-government agencies, and accounting professionals.
Commenting on the success of the conference, Hessa Al Hosani, director of accounting at DAFZA, said, "Sound accounting and financial management practices are crucial to the sustained success of our free zone and the companies we serve. In collaboration with IMA, we were able to successfully enlighten conference attendees on the latest trends, best practices, and tools that can help guide them to sustained financial excellence."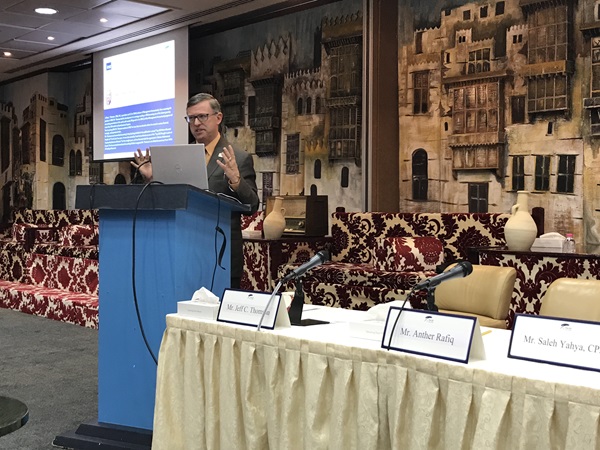 Thomson speaking in Jeddah at the Chamber of Commerce event.
Thomson and Piechowski then traveled to Saudi Arabia in order to cultivate new relationships and extend awareness of IMA and management accounting through visits with various accounting and finance professionals in public and private companies, as well as with numerous IMA members and CMA
®
(Certified Management Accountants) training providers. Traveling to Riyadh on May 16, Thomson and Piechowski, met with members from the IMA Riyadh Chapter and the Riyadh Chamber of Commerce. Speaking on the topic of Innovation Governance and the role of the CFO, Thomson inspired the many in attendance about the future of management of accounting. The event was organized by Hasan Al Bahes, president of the IMA Riyadh Chapter, who has been instrumental in turning around the chapter and contributing to their great success. The evening ended with dinner and networking with members of the IMA Riyadh Chapter where Thomson and Piechowski networked with members and gained insight on the region.
Traveling to Jeddah, KSA on May 17, Thomson and Piechowski spent the morning meeting with T.R. Balakrishnan (Bala), CFO, and senior members of the finance leadership team from Abdul Latif Jameel, a multi-national family-owned business group comprised of several industries including automobile, and financial services. The senior leaders discussed opportunities for future collaboration, shared ideas about raising awareness of the CMA, and formulated ways to share knowledge across both organizations.
During the trip, Thomson and Piechowski also met with executives from UMG Samsung, SEDCO Holding Finance Group, and Savola Foods Company to discuss the ways IMA can help companies and their finance leadership teams to succeed. "The four CFOs we met in KSA had a common message - to support Saudi Vision 2030," said Thomson. "The CMA is already well recognized and can play a more prominent role in helping to educate Saudi nationals with management accounting competencies as KSA transforms from a strictly oil-based economy to a broader, more diversified knowledge-based economy."
The last day in KSA ended with a visit to the Jeddah Chamber of Commerce where Thomson and Piechowski met with officials and discussed the role of CMAs in helping to implement Saudi Arabia's Vision 2030, an ambitious economic plan intended to confirm the Kingdom's status as an economic and investment powerhouse and as the hub connecting three continents. This event was organized by members of the IMA Western Province Chapter, headed by chapter president Vijay Soni, in partnership with the Jeddah Chamber of Commerce. The event was aimed at informing the business community of the impending implementation of in-house IFRS conversion, VAT, and excise tax. For his part, Thomson discussed the pivotal role of CMAs in helping achieve the country's Vision 2030.
Thomson meeting with IMA members and guests at an event organized by the IMA Western Province Chapter in partnership with the Jeddah Chamber of Commerce.
Traveling from KSA, Thomson and Piechowski spent one day in Abu Dhabi, where they met with Mr. Ali Khoury, Abu Dhabi IMA chapter president, and attended a chapter event centered on innovation, governance, measurement, and the role of the CFO.
Back in Dubai on May 21, Thomson and Piechowski had another full day of meetings, including meeting with IMA staff in the IMA Middle East/India Regional Office and with multiple CMA review course providers.
Early the next day, Thomson interviewed for "The Business Breakfast" podcast series, a popular show on DubaiEye 103.8 Arabian Radio Network. For his interview on
May 22
, Thomson shared region-specific insights from IMA's Global Salary Survey and the recently released IMA/ACCA Global Economics Conditions Survey for Q1, 2017. Thomson's segment was so well-received, program producers decided to make it a double interview with a continuation of the interview the following day. The topic that aired on
May 23
was about the impact of new and emerging accounting technology, the changing role of finance and accounting professionals, and the importance of skills development and the competitive advantage of earning professional credentials such as the CMA certification. Thomson also appeared in a televised interview on CNBC Arabia.
"It was an honor to bring together financial leaders from the United Arab Emirates and the Kingdom of Saudi Arabia," said Piechowski. "International business trips such as this perfectly demonstrate IMA's commitment to sharing expertise and management accounting best practices worldwide."
For more information about global regions, please visit IMA's website at
www.imanet.org
.