Q&A with Maria del Dado Alonso Sanchez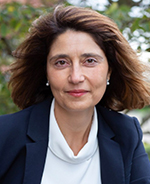 The following is a Q&A with Maria del Dado Alonso Sanchez, CMA, who earlier this year took on the role of representing IMA® (Institute of Management Accountants) on IFAC's Professional Accountants in Business (PAIB) Advisory Group. Dado is the Group CFO of Berlin Brands Group (BBG), a global e-commerce company. She was also one of the main speakers at the World Finance Forum (WFF), held in Amsterdam in June, where she shared her experience as a resilient CFO in fast-growth environments and discussed what it means to become a "Changemaker CFO."
Can you tell us about your journey as a representative of IMA on IFAC's Professional Accountants in Business (PAIB) Advisory Group?
Being a member of a worldwide professional network community that unites accounting and finance leaders to confront critical issues such as sustainability and digitalization has been a dual privilege—both an honor and a chance to make a meaningful contribution. I am incredibly grateful for this great opportunity to represent IMA's values and mission, which serve to enrich and guarantee the strategic position of our profession.
Throughout my journey, I've remained steadfast in my dedication to furthering the interests of accountants within the business sector. My efforts have revolved around elevating the visibility and importance of accountants in steering financial excellence, risk management, and strategic decision-making within organizations.
This journey has brought immense fulfillment, and I am resolute in my commitment to persistently advocate for the indispensable role accountants play in the business landscape. I'm also committed to expanding our influence even further, shaping a lasting legacy that fosters positive change on a global scale.
How has this role enabled you to contribute to the accounting and finance community, both locally and globally? Could you highlight some of the projects and insights you've gained over the past six months?
I have had the privilege of making significant contributions to the accounting and finance community, both on local and global scales. My active engagement in thought leadership initiatives has provided valuable insights to professionals within our field.
Globally, as part of the PAIB of the International Federation of Accountants (IFAC), my colleagues and I have the opportunity to influence the future of our profession. We convene quarterly to discuss pertinent topics within the profession and collaborate on papers from other regulatory bodies. For instance, over the past six months, we have evaluated and shared feedback on the Strategy and Work Plan 2024-2027 with the International Ethics Standards Board for Accountants (IESBA).
In addition, PAIB publishes papers and relevant content on key themes such as sustainability, CFO and finance function priorities, data and digitalization, public financial management, and ethical considerations. These papers are easily accessible and aid me in staying up-to-date in my work.
Locally, by participating at the World Finance Forum in June, I had the opportunity to reinforce three key themes: ESG, digitalization, and the future of the profession. I engaged with more than 100 senior executives in Amsterdam.
My participation in these activities has enabled me to acquire a more profound understanding of the critical upcoming trends. As a result, I am now better prepared to strategically align priorities and projects more effectively within my role.
In what ways do you see your involvement benefiting our community members and their professional growth?
In my journey of over two decades within fast-growing companies, I have gathered experiences that truly shape how I approach my role as a CFO. Resilience has been my guiding force, born from navigating diverse challenges that I believe can resonate with our community.
For me, resilience means adapting to challenges and seeking opportunities in them. It is about prioritizing results while taking pragmatic steps, one at a time. From my own journey, I have learned that the actions I take post-decision matter most, especially in a complex reality where numerous paths intertwine.
Throughout my career, delivering results and improving performance have been core principles in my approach. This is especially important in times of rapid digital transformation and constant change. Navigating such dynamic shifts requires not just focusing on achieving clear outcomes, but also being flexible to adjust strategies in response to changing technologies and markets.
In a world where men have traditionally dominated leadership roles, my path as a female professional has provided me with unique insights. I have come to value not just my growth but also the growth of other women in leadership, as a way to empower and lead the way to the next generation. It's about shaping a responsible future all together, men and women in the profession.
What prompted you to begin pursuing your CMA? How do you think earning the certification will benefit your role in your current career?
The decision to pursue my CMA was driven by a deep desire to further excel in my role, contribute meaningfully to my career and help me differentiate myself. The CMA certification holds immense importance and prestige. It signifies a commitment to excellence, comprehensive knowledge, and a dedication to advancing one's professional standing, while also serving as a bridge to international opportunities.
In my experience, the key benefits of acquiring this certification can be summarized in three main aspects: go fast, enabling prompt value addition to businesses; differentiate yourself, creating your identity brand while ensuring your relevance and distinctiveness in a competitive landscape in the business and around you with other peers; and last but not least, the CMA helps you to open unexpected doors to international prospects and a vast network of fellow professionals and experts. Achieving my CMA boosted my ability in all three of these elements.
What do you think are some of the biggest challenges facing accounting and finance leaders today?
In the current fast-changing environment, leaders in accounting and finance face some significant challenges. The rapid advancement of technology means we need to be flexible and able to handle digital changes while keeping data safe. To do well, leaders also need to become skilled in new technologies like robotic process automation (RPA), AI, machine learning, and blockchain, which are important parts of modern finance skills.
In the midst of these changes, the global economic environment remains intricate, necessitating adept risk management and strategic decision-making. Sustainability, an increasingly central concern, demands the integration of ethical considerations into financial strategies.
Furthermore, the shift towards remote work highlights the importance of effective communication and collaboration skills. To address these multifaceted challenges, a dynamic and forward-thinking approach is essential. Embracing continuous learning is pivotal in acquiring the advanced digital finance skills required, fostering a balance between traditional principles and innovative techniques.
As finance leaders, we hold the power to drive transformative change. By dedicating resources to enhancing our team's skills and fostering continuous growth, we have the capacity to guide our organizations, our people, and the planet toward success in these uncertain times.
What's the best piece of advice you would give to students/young professionals seeking a career in accounting and finance?
My first and foremost advice would be to nurture a curious and adaptable mindset. The world of accounting and finance is always changing, and an insatiable thirst for learning will serve as your compass.
Second, seek out diverse experiences. Whether it's internships, part-time roles, or volunteering opportunities across various industries, each encounter contributes to your personal and professional growth.
Equally vital is networking. Building connections with peers, mentors, and industry professionals offers insights and opens doors you might not have anticipated.
Moreover, embrace challenges. Every obstacle is an opportunity to learn and prove your skills. Perseverance will be your ally.
Lastly, never underestimate the importance of ethics. In this field, integrity is a must. Upholding ethical standards not only shapes your reputation, but it also lays a solid foundation for your career's longevity.
Remember, the journey is unique for each individual. Stay curious, remain dedicated, and continue striving for excellence in every step you take.