Recaps: Successful Accounting & Finance European Conference and More
IMA Europe held or participated in several important events over the past few months, including several organized by our chapters:
Accounting & Finance European Conference
"A New Frontier" was the theme of this year's IMA Accounting & Finance European Conference that took place on 20 April in Amsterdam. During this annual European event, industry experts explained what skills finance professionals need to be prepared for the future, including how to properly guide the implementation of the Corporate Sustainability Reporting Directive (CSRD), which legally requires companies to track and report sustainability metrics. Speakers included Arjan Brouwer (Partner at PwC); Brenno de Winter (Chief Security & Privacy Operations, Ministry of Health, Welfare and Sport); and Brigitte de Graaff (IMA Global Board member and CMA lecturer at the University of Amsterdam).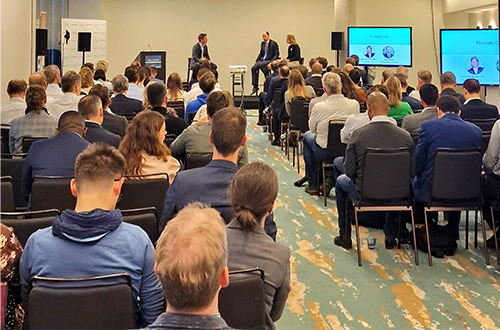 Key insights from the conference included:

Adopt an outside-in view: Whereas maximizing a company's profits was previously the main goal, driven by financial stakeholders, the end-value and future-focused view are more important in 2023. Now, stakeholders want to know whether the company can adapt to what is going on in the world and assess this, for example, through sustainability reporting. This is reflected in the available financing options: more and more banks and investors are paying attention to a company's sustainability figures.

Eye for nonfinancial data: Intangible assets such as the business model, brand, and customer base are becoming more and more valuable. According to speaker and PwC Partner Arjan Brouwer, 90% of the data needed for future reporting is qualitative. So, start mapping and asking critical questions now, such as, what does your governance model look like and what is its role in the value chain? This is how you start to make your organization more resilient for the future, today.

Getting internal stakeholders on board through storytelling: To make a difference and have the company meet the new requirements of external stakeholders, it's important to get internal stakeholders on board. And because not everyone is convinced by data, storytelling is becoming more important for finance professionals. Working together with the marketing and communication department can provide the solution.
Purpose-driven work: Speaker Anders Liu-Lindberg, thought leader in finance, confirmed the transformation to a future-oriented view. In Finance 4.0, companies were still profit-driven, while in Finance 5.0, they are changing to "purpose-driven." As a finance professional, you can also be more aware of your own purpose. If you know what you are working for, you will be more involved in your work and perform better. Engaged employees deliver better results and make it easier to attract, retain and develop (new) talent.

Plans are already underway for next year's Accounting & Finance European Conference, so save the date: 18 April 2024!
EAA Congress
The 45th Annual EAA-European Accounting Association Congress was held in Helsinki-Espoo, Finland, on 24-26 May. IMA Europe was proud to continue our tradition and be one of the Gold Sponsors for this major academic event. The event attracted more than 1,200 participants from 55 countries, and IMA was glad to support leading accounting academics from around the world with management accounting case studies, thought leadership journals, research and publication opportunities, and more.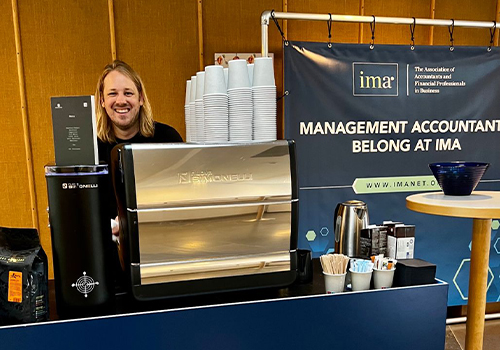 .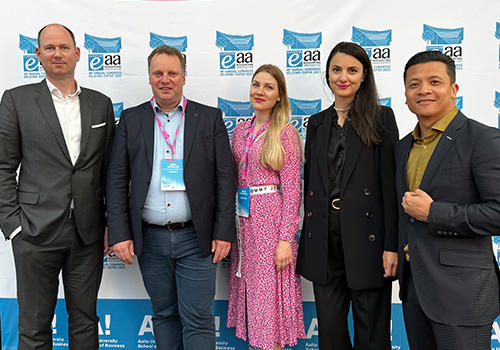 IMA staff participated in a panel discussion on 25 May, featuring Catalin Albu, Bucharest University of Economic Studies; IMA's VP of Research and Thought Leadership Loreal Jiles, CMA; Stefani Mason, DePaul University; Partha S Mohapatra, PhD., California State University, Sacramento; and Charles H. Cho, PhD, CPA, Schulich School of Business, York University. This symposium provided ample space for diverse voices in accounting academia as panelists reflected together on how we foster equity and inclusion within our profession.

Next year's EAA Congress will be held in Bucharest. See you then!
Chapter Events
Spanish Chapter
The IMA Spanish Chapter hosted an event on 9 June, titled "IT Business Value," featuring speakers Miguel Torres, CMA, and Carlos Sandoval-Minera. The event featured a discussion about developing an IT business value framework by using techniques such as the COSO enterprise risk management framework. The event also gave attendees the opportunity to learn more about the chapter.
Switzerland Chapter

The IMA Switzerland Chapter held a Management Accounting Conference in Zurich (and remotely) on 22 June.

The event, titled "When Nothing Is Normal: Managing Uncertainty," featured opening remarks by Ekaterina Emelianova, IMA Switzerland Chapter president. Other speakers included:
Alain Mulder, Managing Director, IMA Europe
Simon Zagg, Audit Partner, Ernst & Young
Gabriel Miranda, Commodity Risk Engagement Lead, Johnson & Johnson
Jack Rohner, Business Owner/Military Diplomat (retired)
The event also included a ceremony for member awards and recognitions.
In addition, the IMA Switzerland Chapter and EMEA Recruitment continued its sessions on personal leadership with a meeting on 15 June in Zurich (and online), featuring Jonathan Cave of @MyPhy. After discussing how to create a high-performing self and boosting our leadership energy, Jonathan showed participants how to create their personal inspiring visions and roadmaps to success. Watch and listen to Jonathan's video for the event insights.
Germany Chapter

The IMA Germany Chapter hosted an event on the topic of enterprise digital twins on 27 June, featuring Dr. Olkiver Grasi from transentis consulting. He introduced the topic of enterprise digital twins and illustrated it with some concrete examples. He also discussed how once we have a digital representation of an enterprise, we can augment human decision making using computational techniques, such as data analysis, simulation models, and predictive analysis.
For more information on these and upcoming events, visit IMA Europe.